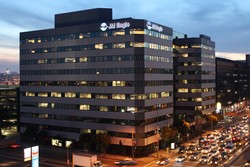 Los Angeles, CA (PRWEB) January 12, 2010
JM Eagle, the world's largest manufacturer of plastic pipe, has completed a joint project with the Entergy Texas Commercial Solutions Program to improve the efficiency of the lighting system at its Conroe manufacturing facility.
The new, high-efficiency lighting will save nearly 400,000 kilowatt-hours of electricity each year, equivalent to the carbon dioxide emissions of about 32,200 gallons of gasoline, according to Environmental Protection Agency calculations.
"Efficiency is a key element of our future, and we are committed to setting a positive example in the business community," said JM Eagle CEO Walter Wang. "The combination of lower energy bills, improved facilities and Entergy incentives made investing in this project an easy decision."
The Entergy Texas Commercial Solutions Program is a no-cost program that provides technical and financial support to help businesses and other organizations identify and implement energy efficiency upgrade projects.
As part of its participation in the program, JM Eagle will continue to evaluate additional efficiency opportunities.
"We look forward to continuing to work with Entergy and the Commercial Solutions Program to identify ways to further conserve energy," said Wang.
"We're very pleased with this addition to our energy efficiency program portfolio," said Terry Swan, Entergy Texas Account Service Manager. "The project that JM Eagle recently completed is exactly the type of efficiency project the Commercial Solutions Program was created to encourage."
JM Eagle supports green initiatives in the manufacturing, transportation, installation and use of all its products. For more information about JM Eagle's commitment to the environment and green initiatives please visit http://www.jmeagle.com.
###