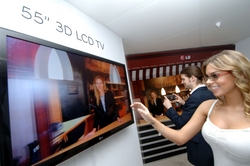 3D technology has come of age and is expected to create new opportunities this year. We plan to deliver advanced 3D technology across a wide range of products -- LCD TVs, Plasma TVs as well as projectors.
Las Vegas (PRWEB) January 7, 2010
LG Electronics (LG), a global leader and technology innovator in consumer electronics, introduced a raft of new innovations today at the 2010 Consumer Electronics Show (Booth #8205), with a focus on making broadcast content more accessible to those on the move and creating a more immersive environment for viewing content in the home.
"This year LG is focusing on key innovations including 3D TV, mobile digital television, and our new solar cell business," announced Dr. Woo Paik, President and Chief Technology Officer at the LG Unveiled media event in Las Vegas. "3D technology has come of age and is expected to create new opportunities this year. We plan to deliver advanced 3D technology across a wide range of products -- LCD TVs, Plasma TVs as well as projectors."
But home isn't the only place LG is innovating. At CES, LG is introducing the DP570MH mobile digital television (DTV), which also offers DVD playback. LG plans to launch mobile phones and portable DVD players equipped with a chip to receive broadcast signals in North America and is anticipating significant demand for the new technology. So far, 88 stations in the US have commenced mobile DTV broadcasts and 45 percent of homes are covered by the service.
Dr. Paik was confident in future opportunities surrounding LG's solar cell business as well. "LG will double the production capability for the solar cell business by next year, aiming to achieve gigawatt capacity within years." LG opened a production line with a total capacity of 120-megawatts in December 2009.
LG's Chief Technology Officer gave further highlights on more innovative technologies and products:
"Most of the TVs LG will bring to market this year are wireless-ready with the addition of online connectivity and entertainment options plus DivX functionality to enable the screens to play back a wider range of multimedia content through a broadband network," said Dr. Paik. He added that the company would announce 480Hz LCD TVs this year, after debuting 240Hz models last year. The high refresh rate eliminates blur and after-images in fast-paced action scenes.
LG's full line of LED LCD HDTVs including INFINIA, an innovative new family of LED HDTVs, highlights the company's 2010 lineup of LED and LCD HDTVs. LG INFINIA HDTVs (the LE9500, LE8500 and LE7500 series) combine a slim design and thin bezel with seamless connectivity and limitless content options. LG's new Full LED Slim technology elevates picture quality with a slim LED structure that supports detailed local dimming of up to 240 addressable segments (on the 55-inch class LE9500), resulting in an HDTV that provides the deeper black levels and uniform picture quality which typically could not be achieved on an ultra-thin set. Boasting a thin bezel of only 8.5mm, the LE9500 brings advanced technology into the home without being obtrusive. Leading the way to the ultimate home entertainment experience, the 55- and 47-inch class LE9500 sets will be LG's first 3D-ready models available in the United States.
The Consumer Electronics Association (CEA) recognized LG's excellence in design and technology with 17 prestigious 2010 International CES® Innovations Awards including the 47-inch LG INFINIA Full LED Slim Backlit LCD HDTV (47LE9500) as "Best of" recognition in the Online Audio/Video Content category.
At the end of the presentation, Dr. Paik revealed an ultra-slim LED LCD TV with a mere 6.9mm thickness.
While discussing new mobile technologies, Dr. Paik said, "LG will release an external dual-mode device to support both the fourth generation of LTE and the third generation of EVDO services, following our success in developing the world's first LTE chipset in 2008."
LG also showcased strategic products to attack the smartphone market in 2010 including the LG eXpo (LG GW820), which ships with Microsoft Windows Mobile 6.5, the Android-based LG GW620 and LG GT540..
The LG eXpo, which picked up a 2010 International CES® Innovations Award, packs plenty of punch and boasts a 1GHz processor, earning it the title of the fastest Snapdragon-based device available in North America.
Mobile phones are all about staying in touch, and LG GW620 and LG GT540 take this to a whole new level through specific optimization for social networking services like Facebook and Twitter.
A final highlight was LG's Wireless Charger. This triumph of LG innovation is the first wireless charging solution in the world to offer simultaneous cable-free recharging for up to three mobile devices. Topping up power is as simple as placing the mobile device on the pad, and it's even possible to make calls while recharging.
For more information, LG's press kit will be available for download at http://www.lge.com/ces2010 beginning January 6 at 09:00 am PST.
About LG Electronics, Inc.
LG Electronics, Inc. (KSE: 066570.KS) is a global leader and technology innovator in consumer electronics, mobile communications and home appliances, employing more than 84,000 people working in 115 operations including 84 subsidiaries around the world. With 2008 global sales of $44.7 billion, LG comprises of five business units - Home Entertainment, Mobile Communications, Home Appliance, Air Conditioning and Business Solutions. LG is one of the world's leading producers of flat panel TVs, audio and video products, mobile handsets, air conditioners and washing machines. LG has signed a long-term agreement to become both A Global Partner of Formula 1™ and A Technology Partner of Formula 1™. As part of this top-level association, LG acquires exclusive designations and marketing rights as the official consumer electronics, mobile phone and data processor of this global sporting event. For more information, please visit http://www.lge.com.
# # #