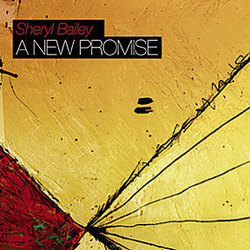 She paved the way for me," Sheryl Bailey says of Emily Remler. "It meant a lot to me to do this tribute and pay homage to her and to say thank you.
Pittsburgh, PA (PRWEB) January 8, 2010
"A New Promise," the sixth and latest CD by Sheryl Bailey, represents something of a homecoming for the New York-based guitarist. It's her first collaboration with producer Marty Ashby and the MCG Jazz label, which is affiliated with the Manchester Craftsmen's Guild in Sheryl's hometown of Pittsburgh. And the project is a tribute to guitarist Emily Remler (1957-1990), whom Bailey first saw perform at the University of Pittsburgh Jazz Festival in 1984 and whose originality and musicianship deeply impressed and inspired Sheryl, then 18 years old.
"I promised myself that I would be a great player and that I'd work hard at it," says Bailey, who over the past decade and a half has established herself as a jazz guitar stylist of the first order and, along with Remler, one of only a handful of female guitarists to have achieved prominence during the entire history of jazz.
The new CD resulted from a 2006 chance meeting at the 55 Bar in Greenwich Village, when Ashby was visiting New York and stopped by to catch Sheryl's set. Within minutes of hearing her first tune, Ashby recalled, "I realized that I was somehow connected to her playing [which] propelled me—on the spot—to want to work with her."
"A New Promise" teams the guitarist with Pittsburgh's extraordinary 16-piece Three Rivers Jazz Orchestra for eight selections, including three composed by Remler ("East to Wes," "Mocha Spice," "Carenia") and three by Bailey. Mike Tomaro and John Wilson arranged the big band tracks, which feature guest appearances by Marty Ashby on acoustic guitar, Jay Ashby on trombone and percussion, and vibist Hendrik Meurkens.
"She paved the way for me," Bailey says of Emily Remler. "I really felt her pain and her struggle with where she was at that time being a woman player. I really wanted to hear Emily's person in me when I played. It meant a lot to me to do this tribute and pay homage to her and to say thank you."
Sheryl Bailey, who comes from a family of classical pianists, picked up the guitar at age 13 and at first was "really into heavy metal." A few years later she became fascinated by the music of Wes Montgomery and Kenny Burrell, and her mother, relieved, hired a guitar teacher and encouraged Sheryl to study.
By the time Bailey entered the Thelonious Monk Guitar Competition in 1995—she placed third, and was the competition's first female instrumentalist finalist—she'd already released her debut as a leader on her own Pure Music Records. "Little Misunderstood" (1993), which featured pianist George Colligan, bassist Vince Loving, and trumpeter Chris Battistone, was followed in 2000 by "Reunion of Souls," with guitarist Chris Bergson, bassist Ashley Turner, and drummer Sunny Jain.
Her longtime working band, the Sheryl Bailey 3 (with Gary Versace on Hammond B3 and drummer Ian Froman), is heard on three Pure Music CDs—"The Power of 3" (2002), "Bull's Eye" (2004), and "Live @ the Fat Cat" (2006)—as well as the DVD "Live in NYC."
Bailey has for the past nine years been an Assistant Professor of Guitar at the Berklee College of Music, from which she had graduated earlier, and is an in-demand clinician who's also written two instruction books (the latest of which, "Moveable Shapes: Concepts for Reharmonizing ii-V-I's," was published by Mel-Bay in 2009). But she remains an omnivorous and grandly versatile player, working in contexts from jazz to rock and klezmer and hip-hop, touring and recording with Richard Bona, Klezmer Madness, Jazz Guitars Play Jimi Hendrix, and, sometimes, her guitarist friend Jack Wilkins. "I don't really separate them all," says Bailey of the various musical forms with which she is involved.
About MCG Jazz:
MCG Jazz is a social enterprise supporting the education programs of the Manchester Craftsmen's Guild, a nonprofit, in Pittsburgh, PA whose mission is to preserve, present, and promote jazz. In addition to 23 years of presenting a jazz subscription series, the MCG Jazz label has won four GRAMMY® Awards with artists such as Nancy Wilson, Paquito D'Rivera, and the Count Basie Orchestra. For more information about Manchester Craftsmen's Guild, please visit their web site, http://www.mcgjazz.org.
# # #