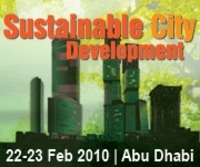 Economic Outlook in GCC and MENA Region
Abu Dhabi (PRWEB) January 11, 2010
As the concept of Sustainable City Development gains momentum throughout the Middle East, an increasing majority of property developers are 'going green' as they comprehend the environmental, social and economic benefits associated with the initiative. CMT's Sustainable City Development conference, which meets on 22-23 Feb 2010 in Abu Dhabi, pinpoints upcoming investment opportunities in Sustainable City Development and Green Building and Construction in the Middle East and around the world.
Most recently, Saudi Arabia launched their Jeddah Masterplan and called for private investment into this ambitious 20-year plan to reduce the number of slums in Jeddah and build more affordable housing while adhering to 'sustainable and eco-friendly' standards. Eng. Ibrahim Khalil Ismaeel Kutubkhanah, Jeddah's Deputy Mayor for Constructions & Projects, will be providing an update on the project opportunities in Jeddah's Masterplan 2020 at the conference.
The conference will also highlight latest technological and design innovations in Abu Dhabi's own Masdar City, the most ambitious sustainable city development in the world today. Senior representatives from Masdar will address the conference and share details on design features, materials and technologies they are employing for the ambitious project.
The Sustainable City Development conference is also showcasing 'green building' practices from Qatar's iconic "Energy City" development, the Gulf's first hydrocarbon industry business cluster. Energy Management Services (EMS) a leading energy saving company in the Middle East will provide details on Builders requirements, the Creation of a Project Development Manual and the overall Sustainability of Energy City Qatar.
Franhaufer, Aldar and X Architects, are also sharing case studies on their respective Green Building developments, including the Future Hotel project in Germany, the Al Raha Beach development in Abu Dhabi, the Al Naseem Project (Estidama pilot project) and Xeritown.
The Sustainable City Development conference will provide an update on the Dubai Debt Crisis, and its potential impact on Sustainable City investments in the region. Dubai International Financial Centre will address this during their eagerly anticipated session, which will cover the "Economic Outlook in GCC and MENA Region".
Senior decision makers from Municipal and Regional Government Authorities & Departments, Regional Development Agencies, Construction and engineering firms, Institutional investors, Real Estate Developers, Legal Firms & Environmental Consultants plus many more are expected to convene at CMT's Sustainable City Development Conference in Abu Dhabi on 22-23 February 2010. The conference will offer over 7 hours of exclusive networking opportunities for all participants.
The Sustainable City Development team welcomes interest from businesses to participate as delegates, media partners, exhibitors and / or sponsors at the conference. hose interested in Masdar City, Estidama Principles, Eco-cities Masterplan and investment opportunities in Middle East can reserve their seats for the conference.
# # #