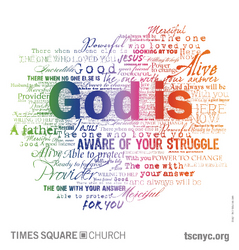 "We want to encourage people to seek God and prove that indeed He is," explains Carter Conlon, Senior Pastor of Times Square Church. "The ads describe God in just a few of the infinite ways He proves His presence to us every day."
New York, NY (PRWEB) January 13, 2010
Times Square Church, an interdenominational church located in the heart of Times Square in New York City, will launch an ad campaign in subway cars and subway station platforms throughout the city proclaiming that God is. The ads, which describe God in multiple ways, will be in 1,000 subway cars throughout New York City and on 50 platform posters in Manhattan stations, starting on January 15.
"We want to encourage people to seek God and prove that indeed He is," explains Carter Conlon, Senior Pastor of Times Square Church. "The ads describe God in just a few of the infinite ways He proves His presence to us every day."
The ads depict the words "God is" in the center surrounded by attributes of God in various fonts and colors, including:
With you...Willing to help...Able to protect...A father...A husband to the widow...Your friend...For you...Aware of your struggle...Powerful...Merciful...Good...Provider...A good listener...The one with your answer...The one who loves you...And always will be...There when no one else is...Power to change...Incredible...Alive...Ready to forgive...Looking at you...Here, now...Jesus.
"Through the ads we want to tell people who know God and have a personal relationship with Him, to share with others what God is to them," Adds Pastor Conlon. "We are praying that people who don't know God and would like to know Him, would be moved by these ads to visit Times Square Church or any Bible believing church in New York City and find God through the forgiveness freely offered through His Son, Jesus Christ. And to those who once knew God and need to get back to God, we want to say simply this: His arms are open wide always ready to welcome you home."
Times Square Church is an inter-denominational, multinational congregation, located in the heart of New York City, at 51st Street, between Broadway and Eighth Avenue, founded by Rev. David Wilkerson, author of the best-selling book "The Cross and the Switchblade." Over 8,000 people, representing more than 100 different nationalities, gather to pray together each week, finding true unity is possible through Jesus Christ. For more information, please visit http://www.tscnyc.org.
###