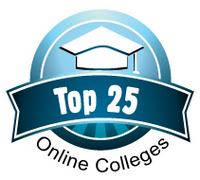 ...students get not only the best education, but the best value....
Kirkland, WA (PRWEB) January 11, 2010
SR Education Group's flagship site, Guide to Online Schools (http://www.guidetoonlineschools.com/)], released its first annual Top 25 Online Colleges study. The annual study by Guide to Online Schools factored in multiple metrics: regional accreditation, tuition cost, number of students, number of full-time faculty, number of part-time faculty, student-to-faculty ratio, graduation rate and retention rate, all derived from the latest data compiled by the National Center for Education Statistics, part of the U.S. Department of Education. Guide to Online Schools also leveraged student feedback and reviews collected on its site for the study. The top 25 schools to rank were then published with full metric data presented online.
Boston University topped the 2009 list, followed by the California University of Pennsylvania, Abilene Christian University and Iowa Central College. Other online schools featured in this list include Norwich University, Grand Canyon University, Jones International University, Liberty University and A.T. Still University.
With the United States currently in a recession, many people are looking to go back to school as a means of learning or improving marketable skills. Online schools present themselves as an attractive alternative to campus-based programs due to their flexible hours, web-based instruction, and often-times lower overall cost. "Guide to Online Schools' study was created to provide students with quick access to online institutions we view as leaders in the field of distance learning," states SR Education Group spokesperson Keith Cushner. "We hope this information (school rankings), along with our other resources, helps the decision-making process for prospective students. During such trying financial times, it is especially important that students get not only the best education, but the best value possible."
Guide to Online Schools is an authoritative online resource for distance education and career information. The portal provides prospective students with school reviews, distance learning testimonials, in-depth career information, and the ability to connect directly with schools. Guide to Online School's Top 25 Colleges study is available at: http://www.guidetoonlineschools.com/online-colleges, and is part of an annual review of all online schools presented on the website.
Guide to Online Schools is operated by the SR Education Group, an educational resource provider. SR Education Group is headquartered in Kirkland, Washington.
For more information, please contact Keith Cushner of SR Education Group, 425-605-8898, keith(at)reachnetwork(dot)com.
###