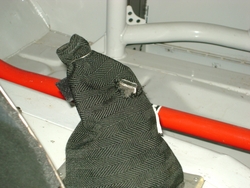 Without a doubt, my Ansell gloves helped me tremendously in those final laps.
Cornelius, N.C. (PRWEB) January 11, 2010
For most racers, a broken racecar shifter should mean an early end to the race day. And for Frank Kimmel, who drives the No. 44 Ansell/Menards Ford Fusion in the 2009 ARCA RE/MAX Series, his broken shifter should have left him with not only a damaged car, but also an injured hand.
But that wasn't the case at the South Jersey Building Trades 150 at New Jersey Motorsports Park in September.
On lap 40, Kimmel radioed his crew that his shifter broke leaving only a sharp metal nub to work with. Despite the mishap, Kimmel continued to log laps on par with his previous race pace, even recording his fastest lap of the day after the shifter broke.
According to Kimmel, it was his choice of gloves that kept him in the race – a protective racing glove specifically produced for Kimmel by team sponsor Ansell. It wasn't until after the race that Kimmel realized the full impact his Ansell gloves had while on the track.
"Without a doubt, my Ansell gloves helped me tremendously in those final laps," said Frank Kimmel. "Even the protective boot that was between my glove and the shifter couldn't withstand the friction, and it had a large hole torn in it by the end of the race. Any other glove would have ripped and left me with a sore or injured hand. I truly believe that the Ansell glove saved me from any real damage to my hand. As jagged and sharp as that shifter was, I was shocked when I took off my glove after the race and saw that my hand was okay."
Kimmel's veteran skills most certainly played a part in the day, as well.
"For any driver, that would have been extremely difficult to deal with for 25 plus laps," said Kimmel. "But, there's something to be said for being one of the older guys who has probably more knowledge about how the shifter works and what it takes to make it go from one gear to the other than some of the younger drivers. I have rebuilt shifters over the years and the mechanical knowledge that comes from that experience definitely helped."
The challenge was still a tough one for Kimmel. Yet, he still walked away with a solid ninth place finish — his 12th top-ten finish of the season.
"I even surprised myself with making that nub work there in the end," Kimmel added. "I guess having a veteran driver with a really great glove made all the difference."
About Ansell
Celebrating more than 100 years, Ansell has long been recognized for innovations and leadership in the hand protection and safety apparel industry. Besides high quality products, the company offers a comprehensive business solutions approach to help manufacturers achieve their cost reduction mandates. Ansell personal protective clothing (PPC) specialists work directly with corporate and plant representatives to develop highly effective programs with quantifiable results.
With its regional U.S. headquarters located in Red Bank, New Jersey and with operations in Canada, Latin America, Europe, Asia and Australia, Ansell serves a wide range of industries, including chemical manufacturing and refining, automotive, food processing, general industrial, pharmaceutical, pulp and paper, construction, white goods, semiconductor and electronics manufacturing, and primary metals.
For more information about Ansell's strategic business solutions and portfolio of protective gloves and apparel, visit http://www.ansellpro.com or call (800) 800-0444.
###