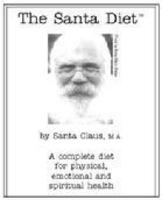 Love is the most basic ingredient of a healthy diet.
Incline Village, NV (PRWEB) January 12, 2010
The Santa Diet, a complete diet for physical, emotional, and spiritual health, by Santa Claus, M.A. Santa believes that love is the most basic ingredient of a healthy diet.
Santa Claus is a Christian Monk who concentrates on loving, forgiving, and maintaining a hopeful and positive outlook, while minimizing everything that is based in fear, such as judgment, stress, loss, and sudden change.
Santa writes, "We become what we absorb – physically, emotionally, spiritually, and through our senses." In addition to making careful choices with what we eat and drink, Santa encourages us to address our personal environment, the kinds of sounds we listen to, what we choose to watch, how we interact with others, the ideas we entertain, and how we express them.
Santa emphasizes that each of us yearns for nourishment and love and that most of us would like to become healthier. He assures us that we can turn our less-than-perfect bodies into better functioning ones, improve our perception and emotional balance, and nourish our oft-dampened spirits. Santa believes that our health depends on many interrelated factors and that our goal is to achieve the very best balance we can.
Utilizing THE SANTA DIET, Santa would have us enjoy our gifts and blessings, develop healthy relationships with family, friends, co-workers, and others, eat wholesome food, exercise moderately and regularly, hydrate and cleanse, meditate, move-stretch-breathe, forgive, receive body- and energy work, explore a variety of alternative therapies, and express and share love.
Santa says, "Certainly, we all need love. Every instant, we have the opportunity to connect with others -- physically, emotionally, and spiritually. That is how the web of life is woven, strand by strand, building and nurturing relationships -- loving. Love provides the strongest foundation for great health and balance in one's life."
Santa assures readers who are interested in becoming healthier, enjoying inner peace, loving, and being loved that they will find ample, useful, common sense, and gentle reminders in THE SANTA DIET. Available just in time for Valentine's Day.
###