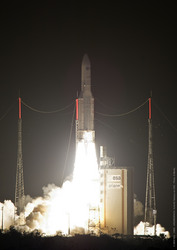 With Amazonas 2, we get the comprehensive coverage, capacity and intuitive advanced technology we need at NewCom to deliver comprehensive communications services to the governments and corporate networks we serve."
Miami, FL (PRWEB) January 13, 2010
NewCom International, a global telecommunications firm that specializes in the transport of communications via satellite, IP and fiber, has teamed with Brazilian Satellite Operator Hispamar to employ its new satellite, Amazonas 2, for the Latin America market.
Amazonas 2, which recently completed orbit testing (IOT), features an advanced intelligent processor, called Amerhis, that is capable of processing and regenerating signals onboard the satellite without the need for a central ground station (hub). Amerhis allows for real-time directing of signals, while eliminating the costly expenditures associated with facilitating and maintaining a hub.
The new satellite, co-located with Amazonas 1 at 61 Degrees west to double capacity at the location, has a broad footprint that stretches from the southern tip of South America to southern Canada. With a lifetime of 15 years, it offers new, cost-efficient opportunities for high power, high quality communications with its 54 Ku band and 10 C band transponders and bandwidth of 36 MHz Ku and 54MHz C.
"NewCom is committed to bringing 21st century communications to developing countries throughout Latin America and we are constantly looking for solutions that will enable us deliver high quality communications in the most cost-efficient manner possible," notes Dora Mejia, director of sales and business development for NewCom. "We are excited about teaming with Hispamar to roll out Amazonas 2 satellite services to this vital region. With Amazonas 2, we get the comprehensive coverage, capacity and intuitive advanced technology we need to deliver comprehensive communications services to the governments and corporate networks we serve."
ABOUT
NewCom International is a global telecommunications firm that focuses on providing innovative, customized solutions for governments, businesses, and organizations worldwide. In addition to providing global transport of voice, video and data communications via satellite, IP and fiber, NewCom's solutions include comprehensive video services, mobile maritime communications services, collocation and equipment sales. Recognized as the second fastest-growing teleport operator in the world by World Teleport Association, NewCom has the dual advantage of a strategic Miami location and a network operations center that offers technical support on a 24/7 basis. Please visit http://www.newcom-intl.com
Hispamar is the result of the investment by two leading companies in their respective sectors, HISPASAT a leader in satellite communications in the Spanish and Portuguese speaking countries , and TELEMAR (OI), the largest fixed telephony operator in Latin America. Its creation is the consequence of these companies establishing a new leader in satellite telecommunications for the Americas. The goal is for Hispamar to become a comprehensive satellite operator, adding value to the best satellite capacity in the Pan American markets and to contribute so that every citizen and company has access to such information to create and develop ideas that improve quality of life and balance in the region. Please visit: http://www.hispamar.com.br/site_eng/
# # #