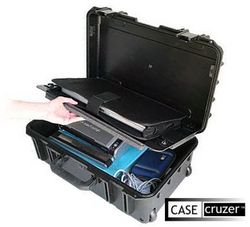 Montclair, CA (PRWEB) January 12, 2010
CaseCruzer invites all business people who globetrot with sensitive digital equipment to upgrade to first class – immediately – by taking flight with the new, adaptable NiteCruzer 2. The sleek mobile carry-on case merges laptop portability with personal necessities to make air travel easy, accessible – and fearless.
NiteCruzer 2 expands protective lid storage capability to handle most 13 to 17-inch laptops. An interior door in the 2-inch lid opens with the mere twist of a latch. This allows travelers to slide laptops into a universal sleeve that can be attached and detached to the interior door with Velcro. The laptop case is fitted with pre-scored foam to protect contents packed in the base of the carrying case. As a result, priceless presentations and other data are safe from shock, awe and the occasional tipsy travel companion.
Need a lighter travel solution? NiteCruzer 2 is also available without the base foam protection. When empty, the laptop carrying case weighs only 12.5 lbs, which leaves plenty of room in the 5.5-inch base for private items that add pleasure and practicality to business trips. Exterior dimensions are: 21.75" L x 13.75" W x 8.99" H. It comes with lifetime warranty.
Take offs and touchdowns are smooth with the 17-inch retractable extension handle and embedded wheels that give business nomads complete control and mobility in any domestic or international environment. And lifting the NiteCruzer 2 into an overhead compartment requires no assistance thanks to side and front snap-down rubber over-molded cushion grip handles. New "Easy Trigger"™ latches make access effortless.
Stylish as well as tough, the CaseCruzer travel solution is an injection molded Mil-standard waterproof case. It is created with high-strength Copolymer resin that is resistant to corrosion and impact damage, submersible and water- and dust-tight. The case is also equipped with an automatic purge valve, and is resistant to UV, solvents and fungus.
Going to extremes? NiteCruzer 2 can handle a maximum temperature of 160 degrees Fahrenheit and a cold chill factor of minus-40 degrees Fahrenheit. And security concerns are mitigated by padlock provisions that guard against unauthorized access or theft. Stormy conditions, sea or river travel and monsoons are of no concern to the laptop case. Buoyancy is guaranteed up to 64.2 lbs
Overnight or overworked, CaseCruzer is an innovative, dependable personal assistant to road warriors whose destination is the perfect presentation.
The CaseCruzer network of companies provides the community with the most comprehensive packaging solutions available on reusable carrying cases for applications such as Communications, Photography, Computers, Electronics, Transportation and other carrying case uses. For more info about the new laptop carrying case, visit http://www.casecruzer.com; call 800-440-9925 in the U.S. or 909-613-1999 internationally; or write to CaseCruzer at 4665 State Street, Montclair, CA 91763
Contact:
Tatiana Briceno
(909) 613-1999
(800) 882-4730
pr(at)casecruzer(dot)com
###