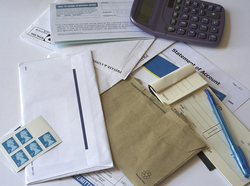 Cardiff (PRWEB) January 13, 2010
Gareth Kloet, Head of energy comparison reminds people to keep warm this winter.
"Pensioners are one of the most vulnerable groups when it comes to cold weather and as we experience the coldest snap for over 30 years, for those worried about unaffordable high bills, help is at hand. People need to make sure they stay warm and should not be afraid of using energy as with careful consideration it is possible to cut bills without putting themselves at risk."
Top tips for the vulnerable

£25 if there are seven consecutive days of freezing weather
A government initiative designed to support vulnerable people afraid to switch on or turn up the heating in cold weather, will see people in areas that are forecast or recorded to be zero degrees over seven consecutive days, get a £25 'Cold Weather payment' towards their energy bills. This should be paid to them automatically if they qualify.

Check your bill and switch tariffs and payment method to make great savings
It is essential not to ignore the bill when it arrives. If it is higher than expected then call the supplier to discuss the possibility of setting up a direct debit and spread any arrears. Changing the method of payment can also result in substantial savings.
Pensioners should consider fixed price tariffs, this will ensure that they are secure against inflation and shifting prices and allow them to budget more effectively.

Providing regular meter readings, or even asking a member of the family to assist, will ensure that you only pay for the energy you use rather than overpaying when you don't need to.

Take advantage of loft and cavity wall insulation grants
Any household with a resident aged 70 or over, qualifies for a 100% grant for insulation. Even those who don't qualify should consider insulating their home as it can pay off in just a year.
Kloet adds, "Staying aware of your energy consumption, shopping around for the best deals and taking full advantage of the grants and assistance at hand are all important things to do during an unexpectedly cold period. Using an accredited site like Confused.com could help."
For further information please contact:
Press office, Confused.com: 02920 434 398
Gareth Kloet, Head of Utilities, Confused.com: 02920 434 268 / 07966 722 063
Notes to editors
About Confused.com:
Confused.com is one of the UK's biggest and most popular price comparison services. Launched in 2002, it generates over one million quotes per month. It has expanded its range of comparison products over the last couple of years to include home insurance, travel insurance, pet insurance, van insurance, motorbike insurance, breakdown cover and energy, as well as financial services products including credit cards, loans, mortgages and life insurance.
Confused.com has all of the 'big six' energy providers on its panel, customers can save £207* on their annual energy bill by switching with Confused.com
Confused.com is not a supplier, insurance company or broker. It provides a free, objective and unbiased comparison service. By using cutting-edge technology, it has developed a series of intelligent web-based solutions that evaluate a number of risk factors to help customers with their decision-making, subsequently finding them great deals on a wide-range of insurance products, financial services, utilities and more. Confused.com's service is based on the most up-to-date information provided by UK suppliers and industry regulators.
Confused.com is owned by the Admiral Group plc. Admiral listed on the London Stock Exchange in September 2004. Confused.com is regulated by the FSA.
*50% of customers who switched gas and electricity (dual fuel) with Confused.com between January and June 2009 saved on average £207.58
###