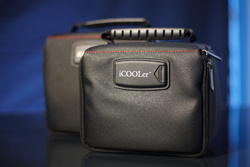 As a parent, I knew there had to be a way to keep my kid's food healthy and safe.
Mission Viejo, CA (PRWEB) January 13, 2010
iCooler™, an entrepreneurial company based in Mission Viejo, has just launched its first line of products, a series of insulated lunch boxes with cooling gel built into all sides of the lunch box. The iCooler products (patent pending) are a revolutionary new invention that are as simple as they are functional.
Founder and owner Wali Azamy came up with the idea while packing lunches for his three children. "Many schools require kids to leave their backpacks outside or in warm rooms for hours before lunch. UC Davis has documented that children are at higher risk for food borne illness due to bacteria, and that many foods become unsafe to eat just two hours at room temperature. As a parent, I knew there had to be a way to keep my kid's food healthy and safe." http://val.ucdavis.edu/webdevport/8109.pdf
Home-made lunches also tend to be healthier, with less processed foods, and more fruits and vegetables. Packing lunches at home saves money, a benefit to almost everyone in today's economy.
Available in three sizes, each iCooler has a rugged canvas exterior, sturdy zipper, secure area for personal ID, vinyl lined interior, and six freezer gel packs sewn into the lining. Simply place the iCooler in a freezer overnight, and it will keep food fresh and safe for hours. You avoid the condensation and sweat associated with normal gel packs and since the gel packs are sewn in, kids can't accidentally throw them away. They are reusable and easily cleaned, meaning less waste, a small contribution to the conservation for our environment.
While school lunches were the original inspiration for the product, Wali has found that office workers are enthusiastic about the iCooler for the same reasons. Local firemen use the iCooler to keep food fresh while out in the field. A number of diabetic customers have found the compact size of the iCooler effective in keeping insulin refrigerated at a safe temperature, giving them more flexibility in travels while ensuring the safety of their drugs.
Currently the iCooler is available online at http://www.iCoolerUSA.com, with several retail distribution deals in process.
About Walli Azamy:
Mr. Azamy is the owner, manager, and lead chef at Sabatino Restaurant in Mission Viejo. "We serve a very family oriented community of people who care about their health and the health of their environment."
Media Contact:
OC Creative Media
949.292.3835
http://www.OCCreativeMedia.com
###