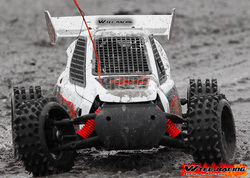 VVTec firmly believes high quality products that don't break or fail shouldn't cost an arm and a leg
Los Angeles, CA (PRWEB) January 15, 2010
Speed and fun have never been so affordable, thanks to the launch of VVTec Racing (http://www.vvtecracing.com), a new competitor in the remote control (RC) vehicle market. Proud to be an industry leader in the RC market, VVTec designs, manufactures, and sells its products through its new website. Designed from the ground up by in-house engineering staff, VVTec's vehicles are unsurpassed in design and manufacturing quality and affordability.
Founded by two engineers who weren't satisfied with the current state of the RC vehicle market, VVTec firmly believes high quality products that don't break or fail shouldn't cost an arm and a leg. With this in mind, VVTec Racing was born, pushing the boundaries and leading the industry in design thoroughness, manufacturing quality, and customer service. VVTec's passion and obsession for RC racing bleeds through into each and every one of its products. VVTec engineers, hailing from all over the world, design every component from start to finish. Starting with the latest CAD design methods and ending in thorough prototype testing, research and development is a cornerstone of VVTec mission.
Excellent manufacturing policies and procedures are also a major part of VVTec's corporate vision. Traditionally plastic parts have been replaced with superior metal components, and where plastic is used, only high impact, high strength materials make the cut. VVTec's state-of-the-art manufacturing and assembly line is unmatched in the industry, leading to excellent quality at the best price.
Rounding out VVTec's corporate strategy is unbeatable customer service. Customers get the answers and solutions they need, when they need them. VVTec wants to make sure the customer has a great product in their hands, and if there is a problem, that it is replaced or repaired in a timely manner.
Come visit http://www.vvtecracing.com today, and see the difference affordable quality makes.
About VVTec Racing
VVTec Racing is based out of Vancouver, Canada, with a satellite office in Seattle, Washington. We design, manufacture, and sell quality gas- and nitro-powered RC vehicles that match and exceed any competitor in the market today.
###