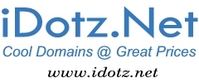 In a disaster of this magnitude, children are the most affected
San Francisco, CA (PRWEB) January 15, 2010
BRS Media's iDotz.Net, the company's full service registrar site featuring names in over 175 extensions, announced today that its retail domain registration site will donate 100% of revenues over the next four days to UNICEF's emergency response in Haiti.
From now until Monday, all retail revenue spent by our customers on Domain Registrations, Renewals, Transfer and other online services will be donated to U.S. Fund for UNICEF, supporting UNICEF's emergency response in Haiti.
"In a disaster of this magnitude, children are the most affected," remarked George T. Bundy, Chairman & CEO of BRS Media Inc. "UNICEF has been working tirelessly with the relief effort and we feel humbled to be a part of it."
To learn more visit: http://www.domainsforrelief.com or http://www.idotz.net
From more information on UNICEF's emergency response in Haiti go to: http://www.unicefusa.org or on Twitter @ http://twitter.com/unicefusa
About BRS Media Inc:
Based in the South of Market district (SoMa) of San Francisco CA, BRS Media (http://www.brsmedia.fm) is a member of the National Association of Broadcasters, the International Webcasting Association and the Webcaster Alliance. Listed as one of the fastest growing privately held companies by the SF Business Times and Inc. Magazine, its portfolio of Online properties includes: dotFM® & dotAM®, domain registrar of premium multimedia .FM and .AM domains; dotRadio™, the new .RADIO top level domain for the On Air and Online Community; iDotz.Net domain registrar of all gTLD domains (.com, .net, .org), as well as, boutique domains (.tv .la, .im, .vc & .mn); @Radio.FM & @Radio.AM, free Web based email services and the ever-popular Web-Radio, the leading portal for "tuning in" Radio on the Internet. dotFM, dotAM and dotRadio are either registered trademarks or trademarks of BRS Media, Inc.
# # #