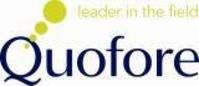 Complementing our existing solution, this application provides a low-cost platform. In emerging markets in particular, where a multi-tier distribution model and high frequency visits to stores are common, this low-cost technology is ideal
Sydney, Australia (Vocus) January 16, 2010
Quofore, the global provider of mobile sales force automation solutions for retail execution and van sales, today announced the launch of a new mobile phone application to better serve field sales and merchandising teams. The first customer to implement the application is one of the world's largest consumer goods companies whose field force team in China is set to perform various in-store functions that only all-inclusive mobility solutions make possible.
According to Bill Hipkiss, senior product specialist, Quofore's mobile phone application ultimately accelerates decision making between merchandisers and their supervisors by speeding communications and allowing real-time information gathering and cross-departmental review. The application is J2ME-based, and therefore, could be ported to run on any Java-compatible mobile device, including Blackberry or other smart phones. Daily work tasks that the application supports include: facing counts, price checks, display checks, and competitor price audits. In addition, merchandisers can conduct store-level, sales volume and revenue tracking.
"Complementing our existing solution, this application provides a low-cost platform. In emerging markets in particular, where a multi-tier distribution model and high frequency visits to stores are common, this low-cost technology is ideal," said Hipkiss. "From our position in numerous countries, we see that this mobile phone application is a true differentiation in the marketplace."
In correlation with Quofore's product development efforts, the company's newly released White Paper, "Retail Execution for BRIC & Beyond," speaks to growth-minded consumer products companies who seek to actively engage both modern trade and general trade in emerging markets. Packed with fact-based insight gained from helping companies deploy retail execution efforts in these distinct regions, the White Paper outlines opportunities and defines key challenges of expansion. The crux of "Retail Execution for BRIC & Beyond" is essential information on capturing international growth by aligning with distribution systems and standardizing field-level business solutions to see into supply chains. Readers can also expect to learn compelling demographic data, consumer trend forecasts and rare insight into the operational requirements of doing business in each of the BRIC corners of the world.
A complimentary copy of "Retail Execution for BRIC & Beyond" can be downloaded at: http://www.quofore.com/bric.
About Quofore
Founded in 1998, Quofore (formerly O4 Corporation) is recognized as the international leader in mobile software solutions for field representatives in consumer products companies. Companies using Quofore solutions are able to drive competitive advantage through their management and execution of field sales, merchandising, promotion, direct delivery activities and van sales. Incorporating world's best practice, Quofore solutions reflect the experience and domain expertise gained from over a decade of specialized industry focus, working with customers in more than 20 countries in both modern trade and emerging markets. Quofore markets its software worldwide through its regional offices in the Americas, EMEA and the Asia Pacific region, and works closely with its partner ecosystem to service and support its customers worldwide. Quofore has delivered solutions to customers across six continents including leading global corporations such as Procter & Gamble, Cadbury, Brown-Forman, Dyson and Black & Decker, as well as numerous small to midsize companies. For more information, visit http://www.quofore.com.
###