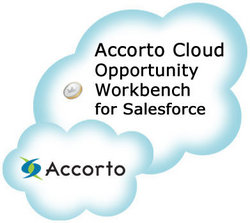 Analyse your Salesforce Opportunities and Trends
Redwood City, CA (PRWEB) January 18, 2010
Accorto, an internationally recognized leader in agile model-driven business applications, today announced the availability of Accorto Cloud Opportunity Workbench.
The Cloud Opportunity Workbench allows you to define the information you want to see, analyze and track. With this fully customizable workbench you define the fields you want to see and in what order.
You can search by timeframe, only your records and filter by stage, account, campaign, lead source, etc. (video) Sort the table information by any column, even using multiple criteria. Drill down to the individual opportunity, account, or campaign.
The bar or column chart depicts all records or by weekly or monthly trends - displays count, amount, expected revenue or quantity - grouped by stage, lead source, account, type or owner. You can also use any custom field.
Click on the chart to drill down to the set of opportunities depicted in that chart segment. Then drill down to the opportunity, account or campaign itself.You can also display any of your custom fields and use them to group, chart and sort your information.
The relevant information to analyze is defined on organization level and each user can have their own settings. Customized the workbench to show those fields that are important to you, in what order and user defined column headings. You also define what fields (including custom fields) are available in the charts. Built as a native Salesforce application, security is fully maintained.
Pricing and Availability
Accorto Cloud Opportunity Workbench is available for free in the Salesforce AppExchange. You can install it directly in your Salesforce organization.
About Accorto
Founded in 1999 and headquartered in Redwood City, Calif., Accorto is an internationally recognized leader in agile model-driven business applications. Previous products include Compiere, the premier Open Source ERP solution.
The workbench technology is also used in Accorto Cloud Plus, a Professional Services Solution, built on Force.com for easy integration and access. Released modules include Time and Expense and Billing.
###