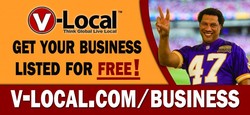 Minneapolis, MN (Vocus) January 18, 2010
V-Local.com announces the launch of their new and lifestyle and directory business. V-Local also extends it's Free Cash Giveaway contest.
The V-Local directory features an easily customizable homepage; V-Local connects your business or organization to vital local and global audiences with its easy-to-use directory of more than one million businesses, events, classifieds and exclusive local coupons and deals. V-Local puts your information at the fingertips of those who matter most.
V-Local is part of iNetGlobal, one of the fastest growing Internet Service Providers for businesses in the world today. Specializing in essential Internet services and online digital media, iNetGlobal has more than 40,000 active global members.
V-Local.com's executive vice president, Matt Renner says, "I am excited about the new V-Local and extremely proud of what our team has accomplished in a short period of time. We took 6 people who have never worked together and in 90 days delivered a brand new and improved website when many of the top firms said it couldn't be done in 6 months. Even more exciting is the future. With the quality of the tool we put out in 90 days - it is exciting to imagine what we will accomplish in 2010."
To celebrate the launch V-Local.com, the premiere, local-based, "lifestyle" and business directory, announced that it would extend the V-Local Free Cash Giveaway until January 31, 2009.
You can register for the V-Local Free Cash Giveaway at http://www.v-local.com/freecash.
Visit the V-Local business and lifestyle directory today at http://www.v-local.com.
###