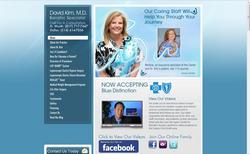 They owe it to themselves to seek permanent solutions, surgical options, proven to help on a long-term basis.
Dallas, Texas (Vocus) January 19, 2010
There are no shortage of fad diets that appear every year claiming that they provide the long-awaited answer for quick and easy weight loss. These diets often contradict each other and can leave people confused, frustrated, and unsure of what to eat. A recent government-sponsored study has shown that even a low-fat diet, long considered to be a practical way to lose weight and reduce the risk of heart disease and cancer, may not be as effective or beneficial as once thought.
David D. Kim, MD, a bariatric surgeon in Dallas and serving surrounding areas, says that diets are very difficult to maintain. "Patients with morbid obesity will fail conventional diets 98% of the time. They are able to lose weight on almost any diet plan, but after the diet stops… they will often regain their weight. This continuous yo-yo effect can lead to a progressive weight gain as well as continued deteriorating health." Scientific studies show that the vast majority of individuals who lose significant amounts of weight through diets or other non-surgical methods regain the weight within three to five years.
Dr. Kim stresses the importance of a balanced diet, regular exercise, and abstaining from cigarettes in order to lead a healthy life. But he says that individuals who are morbidly obese often need surgical weight loss treatment to help them reach a healthy weight and begin living an active lifestyle. "They owe it to themselves to seek permanent solutions, surgical options, proven to help on a long-term basis." At his practice, Dr. Kim offers treatments such as gastric bypass and the LAP-BAND® Surgery in Dallas as well as follow-up counseling to help patients achieve their weight loss goals.
At the Live Life Again Center, Dr. Kim and his staff have helped more than 3000 severely overweight and morbidly obese patients lose weight safely and permanently. Since bariatric surgery does require making a commitment to diet, exercise, and other lifestyle changes, the Live Life Again Center offers comprehensive after-care, including staff-led support groups, to help patients maintain their weight loss.
Dallas gastric bypass, LAP-BAND®, and REALIZE® Band surgery patients at Dr. Kim's practice have improved their health and the quality of their lives through surgical weight loss treatment. And Dr. Kim says these procedures, along with assistance and support, can truly help individuals lose significant amounts of weight as opposed to fad diets that may sound quick or easy but often fail to produce the desired long-term results. Dr. Kim says some diets and exercise regimens can work; but for many people, it's not just about losing a few pounds and attaining a slimmer physique. He says surgical weight loss procedures can help those who are morbidly obese and who are finding traditional weight loss methods ineffective by providing safe treatment that can ultimately reduce serious risks to overall health.
About the Live Life Again Center for Bariatric Surgery and Dr. David Kim
Founded in 2003 by Dr. David Kim, the Live Life Again Center for Bariatric Surgery quickly became recognized as one of the premiere surgical weight loss centers in the United States. Dr. Kim's practice was honored by the American Society of Bariatric Surgery as a Center of Excellence, a distinction given to only one out of every 303 practices in the country. Providing gastric bypass surgery and LAP-BAND® Adjustable Gastric Banding surgery in Dallas, Dr. Kim's practice has helped many patients in North Texas to "live life again."
Dr. David Kim has been honored as a "Top Doc" in Fort Worth Magazine, a distinction that is determined by peer vote. He was also selected as North Hills Hospital's 2006 Physician of the Year.
Located at 35 Veranda Lane Ste 100 Colleyville,Texas 76034 and 11990 North Central Expressway in Dallas, Texas, 75243, the Live Life Again Center for Bariatric Surgery can be reached by phone at (214) 614-7036 or (817) 717-7447.
###