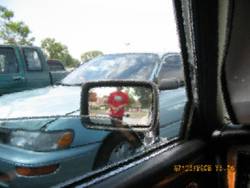 ...in the case of organized stalking, the goal is to destroy a person's life, first by isolation, then degradation, leading to despair and hopelessness as almost noone s/he goes to for assistance will help.
Cincinnati, OH (PRWEB) January 20, 2010
It's 2:30 pm, and the third in a series of calls today from TI's (targeted individuals) across the country. The caller feels alone, fears for her safety and has contacted a human rights group called Freedom From Covert Harassment and Surveillance (FFCHS). Although someone in the organization stated that she had recently placed a call to this person and left a message, Jane (pseudonym) says she never received the call; that her calls are being diverted. The interviewer, Derrick Robinson, president and executive director of FFCHS, can't hear her very clearly so offers to call her back. Jane mentions that the call may not get through.
"Well if you don't hear from me in a couple of minutes, call me back," Robinson says.
They hang up and he dials her number. After several rings, a machine with a woman's voice picks up and he's being directed to a voicemail system. Soon Jane calls back.
"I told you," she says. Jane goes on to complain that she can't access her emails and that her email service provider has sent her a letter saying she needs a court order or a subpoena for her account to be re-opened. Welcome to the world of organized stalking.
According to statistics released in January, 2009 by the Department of Justice (DOJ), 13.1% of 3.4 million respondents to their survey report being stalked by three or more people, which means that there are at least around 400,000 victims of organized stalking in the US.
The DOJ has defined stalking as a "course of conduct directed at a specific person that would cause a reasonable person to feel fear."
And while most people have heard of stalking, a crime committed by one individual against another, relatively few know of the newly-emerging crime of organized stalking, where two or more as a group participate in the stalking and harassing of someone.
The perpetrators of this crime could be an individual with a network of co-conspirators, a business or corporation, or rogue elements of government. Usually the surveillance occurs 24/7 with access to and use of all forms of communication to harass the person, including cellphones, landlines, the Internet, email, postal mail and faxes.
Every aspect of the person's life is affected: friendships, family relationships, the workplace, social networks, finances, worship affiliations, and ultimately, physical health.
The DOJ lists the following behaviors as typical of stalking:

making unwanted phone calls
sending unsolicited or unwanted letters or e-mails
following or spying on the victim
showing up at places without a legitimate reason
waiting at places for the victim
leaving unwanted items, presents, or flowers
posting information or spreading rumors about the victim
on the internet, in a public place, or by word of mouth.
The report further states that "while individually these acts may not be criminal, collectively and repetitively these behaviors may cause a victim to fear for his or her safety or the safety of a family member. These behaviors constitute stalking."
Generally, in the case of organized stalking, the goal is to destroy a person's life, first by isolation, then degradation, leading to despair and hopelessness as almost noone s/he goes to for assistance will help. Not the police, or the FBI, neither his/her elected officials, nor most human or civil rights organizations, and in many instances neither will friends or family because they often do not understand the problem and may conclude the victim is delusional.
At this point, the individual may find him/herself alone against their relentless, unknown attackers that the target cannot readily identify and suicide may be contemplated as the only viable solution to end the torment.
Hence, the importance of a petition drive to bring awareness to the issues of organized stalking and electronic torture, thereby galvanizing Congress, the media, and the American public to life-saving action .
"Stalking is a crime that can happen to anyone. If these experiences are part of your life, you are not alone and help is available in your community", says Safe Horizon - http://www.safehorizon.org - a community organization in New York City, whose mission is to "provide support, prevent violence and promote justice for victims of crime and abuse, their families and communities".
In recognition of those who are victims of stalking, the National Center for Victims of Crime - http://www.ncvc.org - has declared January as National Stalking Awareness Month.
To sign the petition against organized stalking and electronic torture, please visit this link: http://www.gopetition.com/online/33163.html
And those who find they are victims of organized stalking and electronic torture may contact Freedom From Covert Harassment and Surveillance at: http://www.freedomfchs.com
Contact: Derrick Robinson
Phone: 1-800-571-5618
###