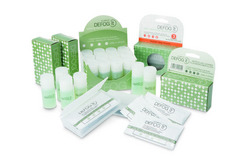 "When you have an anti-fog product that works, the word gets out. We're glad that Canadian customers can now get Clarity Defog It at Amazon.com."
Valley View, Ohio (Vocus) January 21, 2010
Due to overwhelming customer requests, Nanofilm Clarity Defog It anti-fog liquid and anti-fog towelettes are available to Canadian shoppers at Nanofilm's store on Amazon.com.
"When you have an anti-fog product that works, the word gets out. We're glad that Canadian customers can now get Clarity Defog It at Amazon.com," says John Swett, Nanofilm Vice President of Sales and Marketing. "Now we're working on being able to meet the requests from places like England, Australia and even Montenegro."
Clarity Defog It anti-fog towelettes and anti-fog liquid are safe and effective on motorcycle faceshields, eyeglass lenses, scope lenses, goggles, safety glasses and optics, even those with anti-reflective and super-hydrophobic surfaces. A single application can keep optics fog-free up to all day.
The Defog It formula is used by the military around the world in vision-critical situations, and its performance has been proven in rigorous lab tests. In one test, when treated lenses were held over constant hot steam, Clarity Defog It kept the lens fog-free for a full 60 minutes. Competitors failed in as little as 5 minutes.
Defog It has received a number of positive product reviews in recent weeks, including webBikeWorld, which said "The Clarity Defog It anti-fog treatment has given us the best results of any anti-fog treatment we've tried." The anti-fog Seal of Approval from the Handyman Club of American and The North American Hunting Club.
Clarity Defog It is available at Wal-Mart Vision Centers, Amazon.com and other retailers. A half-ounce bottle of the all-in-one cleaner and anti-fog liquid is $4.99 (MSRP). Three reusable towelettes in a plastic carrying case sell for $7.49 (MSRP). More information is available at http://www.nanofilmproducts.com or by calling 1-888-ENDS-FOG.
Nanofilm, founded in 1985, is a global optical leader in lens care and coatings. Millions of people around the world use Nanofilm products, including Clarity Clean It™, Clarity Defog It™ and other lens care products, as well as nanotechnology-enabled coatings. More information is available at http://www.nanofilmproducts.com.
Contact: Lynn Lilly
216-702-5167
llilly(at)nanofilmtechnology(dot)com
###