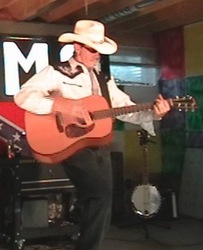 Emo LeBlanc has a Electrified show that you won't forget ! Doug Ferguson, Doug Ferguson Management
Nashville, TN (PRWEB) January 21, 2010
With the new Tour season on it's way, Emo LeBlanc realizes that he has to get his game on. So Emo LeBlanc is headed to Nashville to work with Tom Jackson who produces Taylor Swift's live show. Emo LeBlanc will also be working with Brett Manning who is vocal coach for many stars in Nashville, including Miley Cyrus, Taylor Swift, and others.
Along with going to Nashville, Emo LeBlanc is also releasing his new CD at the end of February. If things goes as planned, Emo LeBlanc will be releasing CD # 5 in May or June.
Being on stage is Emo's love and can't wait to be on stage to performing in front of as many people as possible. Two possible people you might see performing with Emo LeBlanc are Randy Rink, who was the lead guitarist for Shane Yellowbird, and Ronnie Kerr, who is lead guitarist for Aaron Lines. Whether or not Emo LeBlanc has a powerhouse guitarist or not, you will still see and Electrifying Show that you won't forget !
Contact information:
Doug Ferguson
(731)327-4EMO
doug.ferguson(at)emoleblanc(dot)com
###