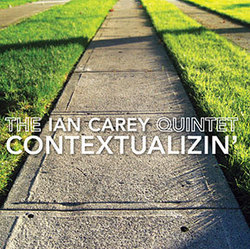 Ian Carey asks deep musical questions," says composer/educator Bill Kirchner, "and comes up with compelling answers.
Richmond, CA (PRWEB) January 21, 2010
Ian Carey's 2006 debut, "SINK/SWIM," drew some critical attention to the Oakland-based trumpeter's original music and forward-thinking quintet, but his new recording, "Contextualizin'," is sure to turn heads in the direction of this gifted jazz trumpeter/composer. The new CD will be released by Carey's Kabocha Records imprint on February 16.
"Sometime when I was in my twenties," says Carey, now 35, "I realized that there are so many great, amazing players out there that the context in which I do what I'm doing is going to be how I differentiate myself, and for me that's writing my own tunes and doing my own things within them."
Carey's striking compositions—and one standard, "Just Friends"—are performed by the tight group of improvisers with whom he recorded "SINK/SWIM" (also on Kabocha) and has frequently worked in Bay Area club settings for the last six years. Saxophonist and flutist Evan Francis is his fiery front-line partner; Adam Shulman switches between piano and Fender Rhodes (playing with "understated virtuosity," in the leader's words); bassist Fred Randolph and drummer Jon Arkin ground and propel the music.
In the CD notes, Carey describes his realization that "What I played would help shape how I played (and vice versa, as it turned out). A song could be a story in itself, or a vehicle to inspire improvisational storytelling. (And sometimes, when everything is happening just right, it can be both.)"
The dropped "g" in the CD's title, Carey adds, "is a play on the high-concept, analytical stuff that people come up with to talk about their music." But when it comes to the music itself, Carey "asks deep musical questions," says composer/educator Bill Kirchner, "and comes up with compelling answers."
Born and raised in a musical family in Binghamton, New York, Ian Carey moved with his family to Folsom, California (near Sacramento) in time for high school, where he was inspired to begin studying jazz trumpet seriously. He studied classical trumpet for two years at the University of Nevada in Reno (also performing with the Reno Philharmonic), then enrolled in the New School in New York City and earned a B.A. in Jazz and Contemporary Music.
At the New School Ian studied trumpet with Cecil Bridgewater, Vincent Penzarella, and Charles Tolliver and composition with Bill Kirchner and Maria Schneider, as well as taking small group classes with Joanne Brackeen, Andrew Cyrille, Billy Harper, and Reggie Workman. He also performed with the likes of Eddie Bert, Rory Stuart, and Ravi Coltrane, and at venues such as the Blue Note and Smalls. Carey led his own Brooklyn-based quartet for several years before moving to San Francisco in 2001.
In addition to leading the quintet heard on "Contextualizin'," Carey has played around the Bay Area with the Contemporary Jazz Orchestra, 8 Legged Monster, the Realistic Orchestra, vocalist Betty Fu, and pianists Ben Stolorow and the late B.J. Papa. His main focus, however, has been on composing and performing original music with the quintet. In his CD booklet notes, Carey recalls a meeting with the saxophonist Steve Lacy in which Lacy observed that the trumpet "is a discursive instrument—you know, it tells a story." With those words in mind, Ian Carey aims to say something with his music. He aims to tell stories.
###