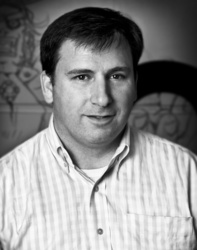 My goal as a Trinity Ventures' EIR is to help companies see how they can generate new revenue streams based on new trends…without generating a higher burn rate.
Menlo Park, Calif. (PRWEB) January 20, 2010
Trinity Ventures announced today that Joe Hyrkin has joined Trinity Ventures as an Entrepreneur-in-Residence. Joe was previously the Senior Vice President of Sales and Business Development at Gaia Interactive, where he was responsible for all revenue, as well as all business development and partnership relationships. Joe has more than a decade of experience in monetizing Internet businesses.
"Joe is one of the early pioneers monetizing Internet businesses outside of the basic banner ad advertising model. Joe simply understands what value is inherent in a business and how to package and sell it. This is a very valuable skill, especially in the current economy," said Larry Orr, General Partner at Trinity Ventures. "Over the years, we've watched Joe emerge as one of the uniquely positioned guys in Silicon Valley who can figure out how to create a revenue generating business."
Prior to Gaia Online, Joe headed up the business side of Multimedia Search at Yahoo!, where he also served as head of Business Development and Sales for Flickr. Before his time at Yahoo, Joe served as Vice President of Strategic Accounts and Asia Pacific Operations at publicly listed company, Virage Inc, a provider of video search and publishing services and software. While at Virage, Joe and his team pioneered some of the first business relationships in the broadband entertainment space, working with some of the world's leading media companies. Prior to Virage, he headed sales for Sina.com, the top Chinese language web portal. Before that Joe ran The Economist Group's business in China for 4.5 years establishing the company's presence in the country and overseeing offices in Beijing, Shanghai and Hong Kong.
"Right now there are significant changes in technologies, consumer behaviors, and analytics. I believe that start-ups who capitalize on these changes can create significant revenue, by demonstrating the value of Internet advertising and of virtual goods. Many start-ups and brands have yet to take advantage of these developments to monetize their business. My goal as an EIR is to do just that -- meet with companies to help them see how they can generate new revenue streams based on these new trends…without generating a higher burn rate," said Joe Hyrkin.
"Being a Trinity Ventures' EIR is the optimal situation for any entrepreneur in the valley. Not only do I have broad access to their enviable network and reputation, but I have access to the insightful and 'entrepreneurial' minded investment team at Trinity Ventures."
Trinity Ventures continues to make early stage investments, specializing in digital media and consumer services, with their oversubscribed Trinity X fund, which was raised last April. Trinity X fund includes investments such as CrowdFlower, GridIron Systems, gWallet and TubeMogul.
About Trinity Ventures
Founded in 1986, Trinity Ventures partners with passionate entrepreneurs to transform revolutionary ideas into reality. With over $1 billion under management, Trinity Ventures was founded on the principle of personal engagement and mutual respect with the entrepreneurs we fund. Trinity Ventures focuses on early stage technology ventures with a particular emphasis on digital media, Internet services, mobility, security and software markets.
Trinity Ventures has invested in more than 100 ventures, including such leading companies as Affinity Labs (acquired by Monster.com), Aruba Networks, Bix (acquired by Yahoo!,) Blue Nile, Crescendo Communications (acquired by Cisco), Extreme Networks, Forte Software, IntruVert Networks (acquired by Network Associates), LoopNet, Modulus Video (acquired by Motorola), Network Alchemy (acquired by Nokia), Photobucket (acquired by News Corporation), SciQuest, Speedera Networks (acquired by Akamai Technologies), Starbucks, Sygate Technologies (acquired by Symantec) and Wall Data. For more information, please visit http://www.trinityventures.com.
###