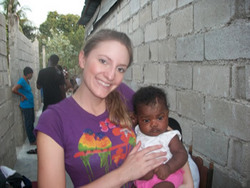 Words can't describe the fear, panic, hunger, thirst, and danger.
Waterford, VA (PRWEB) January 21, 2010
Haiti Foundation Against Poverty founder Mallery Thurlow, 22, has been on the ground in Haiti since four days after the earthquake that left thousands homeless, orphaned, and dead. Today, Mallery sent a gut-wrenching email to her staff back in Michigan.
"It is so sad to see our friends going through this," she wrote. "The entire city of Port-au-Prince is sleeping outside under ripped sheets and sticks. Rich and poor, young and old. We are right there with them. Homeless."
Haiti Foundation Against Poverty has been raising funds through their website, HaitiFoundation.com, for a structurally stable, prefabricated building that will be used as a medical facility and a refuge to address immediate health needs and to provide shelter for homeless Haitian children. It will later be converted into an orphanage, which the Haiti Foundation Against Poverty had been planning to open in Port-au-Prince before last week's deadly quake.
The Haiti Foundation Against Poverty's efforts have taken on a greater sense of urgency with so many newly orphaned children.
Today's aftershocks have further hampered efforts to secure shelter and made a desperate situation worse. "There are so many orphaned children, but before we can help them we have to have a place for teams to sleep," Mallery's email to her staff continued. "The best we could do for the orphanage when buildings were standing was $260,000, and NOW that so many are gone the prices for a standing house are crazy!"
A tractor-trailer filled with supplies and much needed basic necessities, including food and water, is set to travel tomorrow from Grand Rapids, Michigan to a Florida airfield, where a donated airplane is waiting to take those supplies to Port-au-Prince.
"My heart is literally dying for our loved ones," Mallery wrote. "Words can't describe the fear, panic, hunger, thirst, and danger. It's all too much. Please help."
Mallery had been planning to permanently relocate to Haiti in March of this year to continue her life's work of helping Haiti's poverty stricken children, an effort which has included building a school that has enrolled over 140 Haitian children who would otherwise have no opportunity to obtain an education. The organization's next step was to open an orphanage for the numerous parentless children of Port-au-Prince.
This is a plan they still intend to follow through on once the immediate aftermath of the earthquake has passed, and the structure they are raising funds to purchase for emergency use is no longer needed as an emergency medical facility. With the devastation caused by last Tuesday's earthquake and this week's aftershocks, the number of orphaned Haitian children needing HFAP's help, as well as a stable structure in which to live, has grown astronomically.
About Haiti Foundation Against Poverty
The Haiti Foundation Against Poverty™is a 501(c)3 nonprofit organization, founded by Mallery Thurlow in 2007 to empower poor, widowed, and orphaned Haitians and to spread the message of the Gospel.
They work primarily in the area of Port-au-Prince, providing impoverished Haitians with education, child sponsorships, medical missions, small business support, food distributions, and orphan care. Due to the recent devastation, they are attempting to raise money in support of the relief efforts to include a medical badly needed medical building.
About RaiseDigital LLC
RaiseDigital is a Herndon, VA-based company specializing in new media fundraising.
###