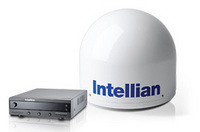 Intellian Products undergo the most stringent vibration and drop testing before shipment
Morgan City, LA (PRWEB) January 23, 2010
Delta Wave Communications, Inc. is pleased to announce that they have formed a distributorship for Intellian's line of stabilized marine satellite TV dish products. Delta Wave will be offering this product to customers operating out of the Gulf of Mexico region.
The line consists of two commercial 3-axis stabilized satellite TV antenna models, the t110W and t130W, and two recreational 2-axis models, the i6W and i9W. w-Series systems are the only antenna solutions capable of receiving all types of satellite TV signals, including HD, in all markets around the globe. With the installation of a single i6W, i9W, t110W or t130W system, recreational and commercial boaters achieve a new level of satellite TV convenience, as well as unparalleled access to the greatest number of channels at sea.
Mark Borner, V.P. of Sales at Delta Wave adds: "We are very excited to be offering this unique product to meet the demands of our customers operating in the Gulf region. Intellian products offer a much greater value than its competition, and are the most versatile systems on the market". He adds: "Intellian products undergo the most stringent vibration and drop testing before shipment."
Intellian has recently announced that Motor Boating Magazine has awarded Intellian the prestigious "BEST of the YEAR" award, as featured in the upcoming February issue of Motor Boating magazine.
For additional information, contact Mark Borner at Delta Wave Communications. (mark..borner(at)deltawavecomm(dot)com).
About Delta Wave Communications, Inc.:
Delta Wave Communications, Inc. (Delta Wave) is a mobile satellite service provider based out of Morgan City, LA. Products and services include Inmarsat®, Iridium®, asset tracking, and system integration. Founded in 1997, Delta Wave Communications, Inc. offer communications solutions for customers based in remote areas. Delta Wave is prepared to meet your mobile satellite communications requirements whatever the situation may call for — whether the requirement is emergency preparedness, remote field operations, or any other global application. For more information about Delta Wave Communications, Inc, please visit the company's web site at http://www.deltawavecomm.com.
About Intellian:
Intellian is the world's technological leader in manufacturing a wide range of mobile satellite communication systems. Intellian has established its name with its self-contained satellite antenna technologies, which provides access to high-quality satellite antenna systems in the open sea, even in the roughest weather conditions. Intellian will continue to maintain the highest level of standards and introduce a variety of innovative satellite antenna system for all industries. For more information about Intellian call (949) 916-4411 or visit http://www.intelliantech.com.
###