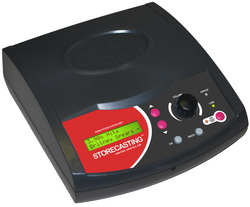 Charleston, SC and the Hague, Netherlands (PRWEB) January 23, 2010
Storecasting USA, provider of in-store messaging and music via internet, has selected the Solutions Radio ISR2 as its primary internet receiver.
"We are proud and delighted with our new partner for the Storecasting market in the United States. The expertise and commitment of the Storecasting team backed by their vision on the developments in the Storecasting market will give stores a truly flexible and personalized solution, " said Werner Haan, Founder & CEO of Solutions Radio.
Laramie Guest, Chief Technology Officer of Storecasting USA, added, "We tested dozens of receivers for sustained, dependable service and the right combination of features. Obviously, Werner's unit came out on top."
"We had to have the best unit available, so we took our time in making the decision," said Storecasting USA CEO Ed Seeger.
The Storecasting service provides results-oriented messaging with a wide variety of music options for a rapidly expanding client base. Subscribers insert brief announcements about their store, upcoming special sales or events, messages on behalf of vendors, and any other messaging they wish to call to the attention of their shoppers, reaching them at the point of purchase.
"Store personnel are often asked by customers to identify songs playing on the store's system, so a crucial factor was that song information be displayed on the receiver, which was yet another reason to choose the ISR2," noted Scott Johnson, Storecasting USA's Director of Programming.
"Our clients really like the emergency backup feature of the ISR2 that activates in the event of a failure by their internet provider," added Michael Chase, Director of Operations.
For additional information, please contact:
Solutions Radio BV – Werner Haan, CEO, +31 152 625 955 whaan(at)solutionsradio(dot)com
Storecasting USA -
Laramie Guest, Chief Technology Officer, 843-972-2200 lg(at)ams(dot)fm
Scott Johnson, Director of Programming, 843-972-2200 sjohnson(at)storecastingusa(dot)com
About Storecasting USA:
Storecasting USA (http://www.storecastingusa.com), a division of TheMessageWorks, LLC, is an internet based messaging and music system for stores and offices. Other services include custom internet players for clients ranging from universities to church networks and National Hockey League teams. An affiliated company is popular music site TheRadio.Com (http://www.theradio.com), with 250 high-quality music channels. Smartphone mobile service is distributed in the US by FlyCast, Inc. and in Great Britain and India via a partnership with ROK Entertainment Group, London. Storecasting USA, LLC and TheRadio.Com, LLC are located in Charleston, SC.
About Solutions Radio:
Solutions Radio BV is a privately held Dutch company with a customer base in Europe, Canada and the US. It manufactures and distributes the WebRadio internet receiver series that enables clients of Storecasting to receive quality in-store music and messaging affordably without requiring the presence of a computer. Recipient of the ICT Innovation Award, Solutions Radio has many years of experience in the International Audio and Telecom markets. The company is located in The Hague, Netherlands. For more information: http://www.solutionsradio.nl/
###