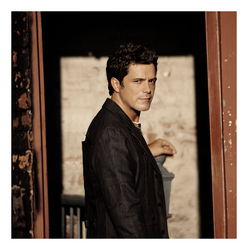 Greensboro, NC (PRWEB) January 22, 2010
Serendipity brought them together. A twilight cruise on mega-yacht Utopia III with the founders of ultra successful Internet Company Market America and mutual friends Loren and JR Ridinger, the breezy Miami air, and a shared love for music became a magical recipe for paradise for Alejandro Sanz and Alicia Keys. Alejandro strummed his guitar while Alicia hummed an intoxicating melody—one which would eventually evolve into "Looking for Paradise", a song with the ability to transcend culture and language and speak to humanity and our common search for paradise: a place as authentic as it is uplifting.
Now come see Alejandro Sanz, the 15 time Latin Grammy award winner and two time Grammy Award winner, perform "Looking for Paradise" at Market America's sold out World Conference on Saturday Jan. 30 at 6:40 PM. "Looking for Paradise" has gone all the way to number one on the Billboard Latin Pop Songs chart, Tropical Songs chart and Billboard Hot Latin Songs chart. Market America was behind the scenes at the making of "Looking for Paradise" which can be viewed here at ma My World: http://myworld.marketamerica.com/index.cfm?action=services.epCustLanding&landingID=lookingForParadise
The audience attending the sold out conference, will have the unique opportunity to see this amazing performer LIVE before he kicks off his world tour "Tour Paradise" in Mexico D.F. on February 23rd. The tour will run throughout 2010 and will include concerts in Chile, Argentina, Paraguay as well as Spain in the months of May and June, and major cities of the United States in July and August.
Why was Sanz chosen to perform the song in front of over 25,000 people at American Airlines arena in Miami to close Market America's World Conference event? Because through his songs, Sanz provides messages that completely relate with Market America's philosophy and mission, which is to help people achieve their own paradise, Market America provides over 180,000 people worldwide with a vehicle to achieve financial freedom and achieve their dreams. To date, over 300 people have become millionaires through Market America's UnFranchise System, a business approach that allows the average person to own their own e-commerce website without the high start up costs and restrictions imposed by traditional franchises.
While Sanz is scheduled to perform at 6:40, we invite all media members to also come see for themselves the "paradise" Market America is creating for thousands of entrepreneurs as JR Ridinger details Market America's business model and the reasons behind the company's success beginning at 3:55 PM.
Media credentials will be limited, so please RSVP ASAP to mmiller(at)marketamerica(dot)com
###