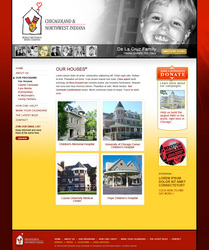 ...this program has allowed me to create a beautiful website and keep it constantly updated without much more than their initial walk-through...!" --Ben Morgridge, RMHC-CCI Dir of Marketing
Portland, OR (PRWEB) January 22, 2010
Portland, Oregon-based web design firm SightWorks has just announced the launch of the latest website for the Ronald McDonald House Chapter of Chicagoland and Northwest Indiana (RMHC-CNI). This website revamp follows on the heels of a similar website restructuring for the Oregon and SW Washington chapter.
The site features a suite of state-of-the-art CMS Tools, an integrated blog, and formatted email template, all built on the SightWorks Platform, allowing RMHC-CNI to easily update content themselves and continually create a dynamic site that encourages return visitors and enhances the chapter's fundraising efforts. Personal testimonial videos featuring families being helped, as well as the board member team, increase the connection with the organization and demonstrate how donor money is being used. Most innovative is SightWorks' auto Search Engine Optimizer, which automatically re-writes and generates a Search Engine-Friendly URL for any new posting RMHC creates on the site. The No-IT-necessary platform translates to even the non-techiest of staff being able to streamline content, thus ultimately lowering maintenance costs.
According to RMHC-CNI's Director of Marketing, Ben Morgridge, "Working with SightWorks has been wonderfully easy. I have very little experience with web design and using this program has allowed me to create a beautiful website and keep it constantly updated without much more than their initial walk-through on how to use it!"
RMHC's tested site design can be adapted for other charity organizations to provide a cost-effective, turn-key solution to enhance web presence and increase donor participation and ultimately donations.
Since 1997 SightWorks has been helping businesses realize their online marketing goals through award-winning web design, intuitive and innovative online applications, dynamic e-commerce solutions, and individualized internet strategy. Clients include Adidas, Care Medical, Cisco, General Electric, Hungry Man TV, and Providence Health Care Systems.
# # #