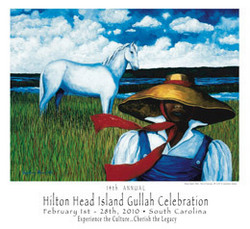 One of the cultural wonders of the world you must see.
Hilton Head Island, SC (PRWEB) January 25, 2010
Although its origins are rooted in slave history of the South, the Gullah Celebration in Hilton Head Island, South Carolina has become a tribute to West African language, crafts, culture and art. Described as "One of the cultural wonders of the world you must see," by USA Today, the Gullah Celebration spans the month of February, and is hosted by the Native Island Business and Community Affairs Assocation, Inc (NIBAA).
The original "Gullah" were African slaves who were shipped across the Atlantic from West Africa to work the cotton plantations of the South. Out of this slavery was born a unique culture that is now known as Gullah. Although commonly associated with the language of these West African immigrants, the essence of Gullah encompasses the struggle, spirituality, perseverance and tradition of the people. The modern day Gullah subscribe to high religion and the celebration of spiritual redemption in leading their daily lives. The culture is a thriving mix of language, folktales and superstition that has shaped generations of families who live on Hilton Head Island and in the Lowcountry today.
Schedule of events for the month includes: De Aarts Ob We People XII Art Show & Sale, an Ol' Fashioned Gullah Breakfast, National Freedom Day, A Gullah Film Fest Series, A Taste of Gullah – Food & Entertainment, The Arts, Crafts & Food Expo on Presidents Day Weekend, and The Youth Musical.
For additional information regarding event schedules, group ticket sales, or hotel and travel information, contact the Gullah Celebration Hotline: (877) 650-0676 or locally: (843) 689-9314, or visit gullahcelebration.com.
In addition to attending the annual Hilton Head Island Gullah Celebration, while in town guests can also visit a variety of other Gullah heritage sites, including: Mitchelville - the first freed Negro township, Gullah Heritage Trail, Ibile Indigo House - a working studio where visitors learn the tradition of West African indigo-dye processes and products, Zion Chapel of Ease - Hilton Head's oldest cemetery and Queen Chapel AME Church - established in 1860 as a "praise house" for Pope Plantation slaves.
ResortQuest Hilton Head Island supports this celebration of local culture and community awareness. Guests searching to experience the Gullah Celebration this February can book vacation rentals and condominiums on Hilton Head Island through the ResortQuest Hilton Head Island vacation rental s website - resortquesthiltonhead.com. The Hilton Head vacation rentals offered by ResortQuest Hilton Head Island offer the space, amenities and location ideally suited for a family retreat. Guests enjoy free tennis, discounted golf, free DVD rentals and the exclusive ResortQuest Recommends program offering deals and discounts on over 160 restaurants, shops and activities. All vacation rentals offer fully-equipped kitchens for family meals and immediate access to beaches, tennis, golf and water sports.
About ResortQuest:
ResortQuest, one of the nation's leading vacation rentals and hospitality and resort real estate companies, provides a one-stop resource for vacation bookings in North America's premier resort destinations. ResortQuest is the largest marketer and management company of vacation condominiums and home rentals in the United States, based on a portfolio of over 10,000 vacation rental properties. With the inclusion of Partner Affiliates in North and South America, the Caribbean and Europe, ResortQuest now offers over 50,000 vacation rentals choices in over 100 destinations world-wide.
###