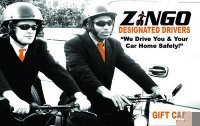 Get Zingo'd home safely with your car....
Fort Lauderdale, FL (PRWEB) January 25, 2010
Michael Kelleher, the founder of Zingo Fort Lauderdale, has been developing Hotels and Restaurants for 29 years, 14 years of that time in South East Florida. Having been in the Hospitality industry for so long, when he was introduced to the Zingo concept based out of Atlanta, he understood the demand for a service like this and that it is a natural extension to the Hospitality industry. This is another great way to insure the overall guest experience, get your customer home safe! "We are excited to be offering this service in Broward County," explains Michael Kelleher, President of Zingo Fort Lauderdale (High Tide 777, LLC). "Our main goal is to cut down on the number of DUI arrests, accidents and deaths caused by those who drink and drive. We look to gain the support of local Law Enforcement, Fire Rescue Services and charities to create a safety alliance and to promote designated drivers." ZINGO will be expanding to Palm Beach and Miami Dade counties soon.
In addition to the normal designated driving service, Zingo can also be reserved 24 hours a day for out-patient medical pick-ups, private parties, sports events, tailgate parties, concerts, weddings, corporate events, or other special events. For more information on Zingo, please visit: http://www.zingoftlauderdale.com or find us on Facebook by searching Zingo Fort Lauderdale
"To date we have the support from more than 50 clubs, restaurants, and hotels," said Kelleher. Kelleher also added, "When the customer finds he can get home safely, he will often spend more money and frequent the establishment more often. We have seen this time and time again."
With the Scooter: A Zingo Driver arrives to the call on a folding motor-scooter which is then stowed in the customer's trunk in a watertight bag. Once the customer has arrived home safely with their designate driver, the Zingo Driver is then off to the next customer by leaving on the motor-scooter. This convenient and affordable service is available for a $20 pick up fee, with the first two miles free, plus $2 per mile driven thereafter. There are no limits on distance! If the if the customer lives beyond 10 miles we use an escort car to pick up the driver near the customers final destination and return the driver to his next customer. Discount coupons are available all over town and online at the Zingo Ft Lauderdale Facebook site and Web page.
Service without the Scooter: For the choosier client that might want a more elite service, and for a slight increase in fair, ZINGO at the customer's request, will drop off a driver to their location or home eliminating the need for the scooter.
Zingo Fort Lauderdale is also a membership based operation both corporate and personal memberships at a discounted rate.
# # #