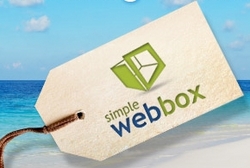 Free Website for Non-Profit organizations that is custom designed and powered by easy-to-use content management system with many other build-in tools.
Norcross, GA (PRWEB) January 25, 2010
SimpleWebBox.com, a small business website solution provider, announced today that they will provide a free website to non-profit organizations. "We wish to help non-profit organizations focus on their not-for profit business and not on the cost to have a website solution," stated Adnan Konjic, CEO at SimpleWebBox. This offer extends to any non-profit organization and will cover setup fees and free domain name for one year. SimpleWebBox will donate one website per month to organization of their choice that submits an application through their website at simplewebbox.com. Non-profit organizations will only have to cover the monthly fee that includes website hosting.
SimpleWebBox offers custom website design with CSS & XHTML development. It's powered by content management system that puts a user in the driver seat of their website. Users can easily update their website from anywhere in the world with no programming knowledge and no software to install. It offers features such as custom design, content management system, search engine marketing, search engine optimization, online gallery, and many more.
So who can apply? The offer is available to any non-profit organization with submitted 501C3 or other proof of non-profit status. All non-profit organizations are hereby invited to apply for the chance to be picked into monthly drawing and win a free http://www.simplewebbox.com website solution.
# # #