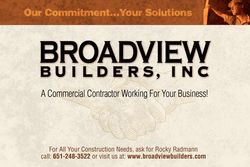 We are the alternative to a large construction firm
Saint Paul, MN (PRWEB) January 26, 2010
Broadview Builders Inc."A commercial contractor working for your business" has procured a new 9 acre facillty located in Blaine, MN. and added a new team member.
The new Blaine location provides Broadview with a larger shop, office, and a 9 acre site for storage and future expansion. Broadview will continue a satellite office in Shoreview.
Broadview Builders also announces the newest member of the Team; Todd Carl, Sales and Construction Manager. Todd brings vast experience in commercial construction: prototype stores, national chains, and mall tenant improvements. He will pursue construction sales and management responsibilities.
Broadview Builders Inc construction experience of key individuals:
Rocky Radmann – President BS Degree in Construction Management, Associates Diploma in Architectural Engineering with 30 years vested in the construction industry with over 130 million dollars in 22 years of project management, ranging from $5,000 to $22,000,000. Rocky has 26 years of construction estimation from private negotiated proposals to public sealed lump sum bid. Construction projects consist of private and public industry: tenant build-outs, restaurants, schools, libraries, warehouses, Minneapolis St. Paul airport projects, plant expansions, community centers, pools and water slides, hospital remodels, storage facilities, retail and office spaces, and sport domes. Owner/Operator for Broadview Builders since 2003.
Todd Carl – Construction Manager: Has a BS Degree in Construction Management and an Associates Degree in Wood Technics with 20 years experience managing projects both locally and nationally for Commercial General Contractors in the St. Paul/Minneapolis area. His experiences include negotiating and competitively bidding projects with an emphasis on retail Tenant Improvements including Prototypes and Roll-Out Programs. He's performed Turn-key Services and Design-Build Services for Corporate Construction Managers, Franchise Owners, Private Owners and Landlords and has personally managed the tasks needed to accomplish all aspects of the work.
Preston Howe – Lead Craftsman: 3 years performing site supervision, rough and finish carpentry, and architectural finish installations.
###