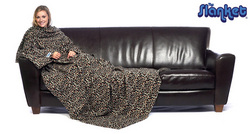 The Bongo option was brought to my attention and it seemed like a good fit to help those international be able to consolidate and receive a number of US orders to be shipped all at one time
Denver, CO (PRWEB) January 26, 2010
In 1998, a college student came up with an idea and created a prototype for an item that would become a part of American culture. He probably didn't know it at the time and its' initial purpose was as a solution to his own personal problem of a cold Maine winter that was creating a freezing college dorm room. The idea was to be able to cover up completely with a blanket, but also have the benefit of having your arms and chest protected (think backwards sweater or robe,) while having your hands free for activities such as drinking, eating, typing, channel surfing, etc. It began as a sleeping bag with arm holes in it, developed into a personal one sleeve prototype sewn by Mom, and in 2004 was refined to create the item we know today as the Slanket.
The Slanket Company is a great business model: simple idea, effective leadership, charity driven, quality over quantity, and now, an efficient complement to their existing worldwide shipping and availability. Slanket.com has partnered with parcel forwarding company Bongo International and now regularly services over 220 destinations. "Within the first week that we launched our website we had inquiries from all over the world, states Jeff Clegg co-founder and co-owner of The Slanket. "We did ship to them using regular methods of using UPS / Fedex and the postal service. The Bongo option was brought to my attention and it seemed like a good fit to help those international be able to consolidate and receive a number of US orders to be shipped all at one time."
The company is always expanding and changing with new colors and patterns. They currently have three additional variations in place, the Travel Slanket, the Kids Slanket, and the Slanket Siamese (which is a huge Slanket for couples to share.) Another refreshing aspect about the Slanket Company is the "down to earth" status they retain in a time where disinterested corporate giants can dominate any industry. They actively support three charities, the H20 Africa Foundation, the Natural Resources Defense Council (NRDC), and the Breast Cancer Research Foundation. When asked about the astounding level of interest for charity, Clegg stated, "We have always felt giving back was something we wanted to do so in deciding that we choose a few charities that we felt had impacted us or our families in some way."
Bongo International provides an easy transition into international e-commerce for companies based throughout the United States and with varying products. By utilizing the international consumer`s U.S. Address, a retailer only has to ship their product domestically to Bongo`s warehouse in Bridgeport, Connecticut.
If you`d like more information about this topic, please call Laura Colado at 1-646-845-0783 or e-mail Laura at Laura(dot)Colado(at)BongoUS(dot)com.
About Bongo International
Bongo International is a premier provider of international shopping cart solutions to help retailers expand their business to international consumers. Bongo's integrated application can easily be implemented on a retailer's site through the use of hyperlinks, converting international consumers into fraud-free domestic orders. By providing a consolidation point for U.S. orders, Bongo can save the international consumer 82% off common carrier rates. Bongo International's application is currently active on more than 750 U.S. retail websites.
Bongo International's website can be found at http://www.BongoUS.com.
About The Slanket
Everyone behind the The Slanket is on the same level when it comes to life. Besides creating a product to make people comfortable and warm, our life goals are not to accumulate mansions, SUV's, expensive watches and closets just for shoes. What we want in life is to travel the world and experience all its cultures while representing humanity positively. Whether surfing in Costa Rica, snowboarding in Austria, or studying language in South America and China, we love to spread our sleeves and let them flap in the wind, giving back in the process. BUT... there is nothing like coming home, wrapping up in THE SLANKET on your own couch and feeling the warmth of your friends and family.
The Slanket's website can be found at http://www.theslanket.com
###