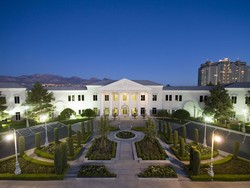 This is an exciting time for us. Thanks to the pioneering work of Dr. Alan Mintz and John Adams, Cenegenics is now moving forward into the next decade with a vision of where age management medicine is headed and what impact our specialty will have on the American healthcare system
Las Vegas, NV (PRWEB) January 26, 2010
Cenegenics® Medical Institute, global age management medicine leader, launched phase one of its 2010 healthcare efforts, establishing a Clinical Leadership team that forms the foundation of their course going forward and gives all Cenegenics physicians a part in the clinical decision-making process. Serving the first of the clinical leadership positions is Robert D. Willix Jr., MD, who will assume the Chief Medical Officer (CMO) role at Cenegenics' Las Vegas headquarters, in addition to his role as CEO/CMO of Cenegenics Boca Raton.
The move bolsters the age management giant's ongoing expansion into major metropolitan cities and ensures disease-risk management best practices, medical excellence and its forefront position in 21st century medicine. Cenegenics' proactive approach to prevent age-related disease--a 180-degree shift from mainstream medicine's disease-focused, diagnose-and-treat philosophy--continues to gain international attention since its 1997 inception.
"This is an exciting time for us. Thanks to the pioneering work of Dr. Alan Mintz and John Adams, Cenegenics is now moving forward into the next decade with a vision of where age management medicine is headed and what impact our specialty will have on the American healthcare system," Willix said.
Per Willix, Cenegenics has been proactive with its patients' healthcare and now is applying that same approach to a proactive medical model--which is rarely seen in private companies.
As CMO at the Las Vegas headquarters, Willix will function as conciliator, getting feedback from every physician and interpreting issues, guidelines and clinical concepts. He also will seek viable solutions and champion initiatives that promote clinical excellence at Cenegenics, focusing on these key areas in 2010:
(1) Quality assurance for all elements of the Cenegenics program
(2) Clinical changes to Cenegenics guidelines
(3) New research initiated by the nonprofit Cenegenics Education and Research Foundation
"The CMO position is our vehicle to gather information from all our physicians to look at the future areas for slowing the aging process and adding vigor to the lives of Americans. Through research, we will establish protocols as well as investigate new markers for aging--telomeres, stem cell therapies, analysis for nutrition and develop quality assurance programs to standardize age management care," Willix said.
Willix is a former board-certified cardiac surgeon, who pioneered the first open heart surgery program in South Dakota. In 1981, he shifted his career to preventive medicine, becoming the Director of Human Performance and Cardiac Rehabilitation for the North Broward Hospital District in Florida. His postgraduate medical studies focused on many integrative medical disciplines, including age management medicine that eventually led to his affiliation with Cenegenics. Earning national recognition as a healer, teacher and speaker, Willix has authored several books. The more recent--AGE Proofing--discusses his exercise, nutrition and meditation approach for reducing the effects of stress.
For more information about Cenegenics, please visit http://www.cenegenics.com. To schedule an interview with Cenegenics, please contact Ann Castro, Cenegenics Director of Public Relations: 702.953.1588.
About Cenegenics
Cenegenics® Medical Institute, recognized leading authority in age management medicine, has centers in Las Vegas, Nevada; Charleston, South Carolina; Boca Raton, Florida; Dallas/Fort Worth, Texas; Atlanta, Georgia; Chicago, Illinois; Los Angeles, California; Philadelphia, Pennsylvania; Washington, DC. Additional centers are scheduled to open in other major metropolitan areas in the near future. With an established presence in the medical community, Cenegenics uses a proactive approach based on solid science and comprehensive evaluation. Their established protocols have been recognized as the next generation of medical science, capturing global attention. Cenegenics offers CME-accredited physician training and certification opportunities in age management medicine via the nonprofit Cenegenics Education and Research Foundation (CERF). Headquartered in Las Vegas, Cenegenics serves more than 20,000 patients worldwide--2,000 are physicians and their families.
###