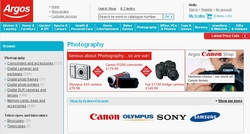 London (PRWEB) January 27, 2010
Argos has introduced its new company brand identity online, coinciding with this weekend's launch of the 73rd Argos catalogue. The move signals a new milestone for the UK's leading online high street retailer, as it reveals a decade of online ascendancy under the previous Argos signature logo.
Since Argos.co.uk became transactional in 2000, almost 1,280,000,000 visitors have been greeted by the previous Argos logo that has represented an industry leading multi-channel model of choice, value and convenient shopping online. The re-design reflects the extent of change at the retailer while reinforcing its established appeal.
This announcement comes on the back of Argos' best ever online Christmas performance. Boxing Day 2009 saw a record 1.9million visits, with the busiest hour coming at 11am - the same peak-time that was recorded in 2007 and 2008. With an average of 1.3million visits per day during their peak trading period*, Argos.co.uk was up 17.5% YoY for average visits per day.
It has been revealed that the website is delivering 35% of all Argos sales through internet transactions, peaking at 11million visits during the busiest week of the Christmas period last year. This achievement is close to matching the total 12million visits and 1% of company sales Argos.co.uk achieved in the entire 2000/01 financial year.
The brand update is Argos' first in 10 years and is designed to present a more modern image that can help take its multi-channel proposition to a new level. With multi-channel sales now accounting for 44% of company sales, Argos.co.uk has played its part in delivering the following peak trading highlights:

5 TVs were sold every minute over peak.
4 out of 5 TVs sold at Argos were own brand products. That's 1 own brand TV every 15 seconds.
Argos sold 3 iPods every minute. That's 1 every 20 seconds
Argos sold £2.5m worth of i-tunes vouchers, equating to 3.15m downloadable tracks
Argos customers purchased almost 200,000 basic DVD players, which works out at 16,500 per week or over 2,000 per day.
-Ends-
For more information contact Media Relations:
Press Office: 0845 120 4365 / 0771 3064079
Notes to editors
*Argos peak trading is recorded as Wk 42-53 11/10/09 - 02/01/10
About Argos
Argos is a unique retailer recognised for choice, value and convenience. It sells general merchandise and products for the home from over 700 stores throughout the UK and Republic of Ireland, online and over the telephone. In the last financial year, Argos sales were £4.3 billion.
Argos serves over 130 million customers a year through its stores. On average, 18 million UK households, or around two thirds of the population, have an Argos catalogue at home at any time.
Argos expects to add around 20 stores this year. Its Internet site, http://www.argos.co.uk, was the most visited high street retailer online in the UK in 2009.
Argos is part of Home Retail Group, the UK's leading home and general merchandise retailer.
###