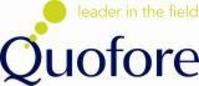 MarketScope for Sales Force Automation in the Consumer Goods Industry
Atlanta, GA (Vocus) January 27, 2010 —
Among the most trusted vendor product and service reports on information technology, Gartner's "MarketScope for Sales Force Automation in the Consumer Goods Industry" has given Quofore a "strong positive" rating, indicating that the company's mobile solutions meet the highest criteria of an analyst in multiple categories. Authored by analyst Dale Hagemeyer, the report provides specific guidance for users who are deploying, or have deployed, sales force automation products or services.
According to Jenni Lehman, group vice president in Gartner Research, the firm's "MarketScope" reports rate vendors based on criteria that focus on the important aspects of an emerging or mature market, and enable solution seekers to map vendor strengths against their current and future needs.
Focusing on Quofore's capabilities of route optimization, rapid deployments, support for various device types and multiple user profiles for merchandising, presales and DSD functions, Hagemeyer noted, "Quofore has the deepest functionality for DSD of any vendor we've seen.
"...Because of Quofore's diverse user base spanning many consumer goods subverticals, recent capital infusion of $15 million, global reach, strength of management team, high degree of client satisfaction, and partner network, we increase its rating to Strong Positive."
Also, for the third year in a row, CGT magazine has selected Quofore to be highlighted on the Editors' Pick page of its annual Readers' Choice issue. The Editors' Pick section recognizes companies that are making an impact in the industry. Quofore was honored specifically in the new Mobilizers category for companies that provide mobility solutions ranging from employee cell phones to retail execution, DSD support and data collection.
About Quofore
Founded in 1998, Quofore (formerly O4 Corporation) is recognized as the international leader in mobile software solutions for field representatives in consumer products companies. Companies using Quofore solutions are able to drive competitive advantage through their management and execution of field sales, merchandising, promotion, direct delivery activities, and van sales. Incorporating world's best practice, Quofore solutions reflect the experience and domain expertise gained from over a decade of specialized industry focus, working with customers in more than 20 countries in both modern trade and emerging markets. Quofore markets its software worldwide through its regional offices in the Americas, EMEA and the Asia Pacific region, and works closely with its partner ecosystem to service and support its customers worldwide. Quofore has delivered solutions to customers across six continents including leading global corporations such as Procter & Gamble, Cadbury, Brown-Forman, Dyson and Black & Decker, as well as numerous small to midsize companies. For more information, visit http://www.quofore.com.
###