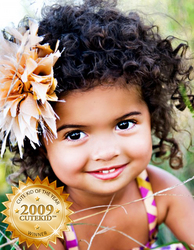 "I am so proud of her and am thrilled about this opportunity from TheCuteKid."
New York, NY (PRWEB) January 27, 2010
TheCuteKid.com™ today announced that The CuteKid of the Year for 2009 is Madison Keese, age 3, from Murrells Inlet, SC. With over two and a half million photos uploaded this year, Madison was among 60 finalists in the contest. She was originally named the September 2009 Preschooler Winner which put her in the running for The CuteKid of the Year award.
As the grand prize winner, Madison will receive

A $25,000 college tuition scholarship
A 3 day/2 night stay in NYC
A photo shoot with a professional photographer
A photo shoot with the cast of FAME
Coaching sessions with Electric Co. Acting Coach
Mommy Make-Over from NYC Cutler Salon
Role in Major Motion Picture "Admissions" starring Meg Ryan & Kevin Bacon
A 2009 CuteKid of the Year website and a canvas portrait of the winning photo
Madison's mother, Michell Keese, entered her photo at the suggestion of a family member. Ms. Keese said, "Our family and friends are so excited that Madison is the winner! Madison enjoys playing with her friends and going to the beach. She takes ballet and gymnastics classes. I am so proud of her and am thrilled about this opportunity from The CuteKid."
"Madison is the definition of a CuteKid and we're happy to be giving this award to her," said Greg Byrnes, VP. "We are looking forward to meeting her at the photo shoot in New York City in the coming months."
To learn more about Madison, visit http://www.CuteKidoftheYear.com. To learn more about The CuteKid™ contest, visit http://www.TheCuteKid.com
TheCuteKid.com is the Internet's most respected and largest growing child and baby photo contest and parent network with over 2.5 million members. The contest is judged by Entertainment Industry Professionals, top Talent Scouts and Casting Agents. TheCuteKid.com is the Internet's leading source for Entertainment Professionals to scout for new child talent. Do you have a CuteKid™?
###