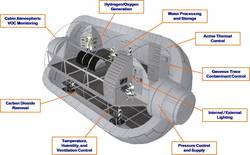 "My expectation for ORBITEC to provide safe and reliable solutions, to build and deliver on time, and to collaboratively work with my team to provide cost effective product is the reason I have them on the Bigelow team." Robert Bigelow, President, Owner
Madison, WI (PRWEB) January 28, 2010
Since 2005, Orbital Technologies Corporation has been working with Bigelow Aerospace to provide environmental control and life support systems for human space flight.
Robert Bigelow, President and owner of Bigelow Aerospace stated that "We have had a long standing beneficial relationship with ORBITEC. Their capabilities and commercial business practice mesh well with our company." Mr. Bigelow also states "My expectation for ORBITEC to provide safe and reliable solutions, to build and deliver on time, and to collaboratively work with my team to provide cost effective product is the reason I have them on the Bigelow team."
ORBITEC is partnering with Bigelow Aerospace's technical staff to develop systems for pressure control, oxygen production and supply, hydrogen supply, temperature and humidity control, ventilation, thermal transport, water processing, gas contaminant removal, carbon dioxide removal, and atmospheric composition monitoring. ORBITEC is proud to be part of this incredible development that will introduce revolutionary and cost effective sustenance of human activity in space. The company's life-sustaining systems, subsystems, and components build on 20 years of company experience with closed human environments for space travel. Many of ORBITEC's solutions have already been implemented and used in spaceflight, and the company has repeatedly demonstrated its ability to reduce product costs through the use of commercially available components. Complete systems are available for air and water processing, environment and thermal management, waste management, environmental control, cabin instrumentation, and science or payload systems. ORBITEC also offers thermal vacuum, acoustic load, vibration, shock, thermal cycling, humidity and specialized testing to determine component and system impacts resulting from exposure to lunar dust.
Thomas Crabb, President and CFO of Orbital Technologies Corporation could not be happier with the relationship that has been built with Bigelow Aerospace. "It is a pleasure to showcase ORBITEC'S technology and products with such a powerful and innovative space partner," said Mr. Crabb "Our proven technology and ability to provide extremely cost effective reliability is a perfect fit for these commercial applications. Our engineering allows ORBITEC customers to integrate a full network of reliable and automated life support subsystems into a full human support space system."
ORBITEC (http://www.orbitec.com) is also developing the next generation of technologies for human support and instrumentation, including new gas contamination removal, water processing, oxygen delivery, carbon dioxide removal, fluid handling and manipulation under several patent-pending processes.
About Orbital Technologies Corporation (ORBITEC)
ORBITEC is a leading high technology development and subsystem integration company based in Madison, Wisconsin. ORBITEC offers commercially mature solutions and strong capabilities in five distinct areas: Next Generation Fire Suppression; Propulsion, Propellant, and Power Systems; Life Support and Environment Control; Bio-based products and production systems; and Interactive 3D Simulation Software. ORBITEC has won more than $250 million in contracts to develop state-of-the-art technologies and products from government (NASA, USAF, US Army, US Navy, USDA, FAA/DOT), large and small commercial aerospace, and other commercial industries The company has been able to convert research and development initiatives into leading technologies and mature the technologies to valuable products in their respective markets that provide significant cost advantages, superior functionality, and high reliability. ORBITEC is led by an experienced management team with over one hundred years of industry experience.
# # #