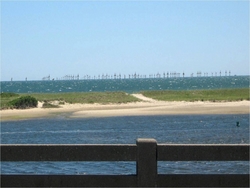 "The message from Massachusetts ratepayers is clear. They are unwilling to dig deeper into their own pockets in the form of dramatically higher electric bills to subsidize a private wind developer," said Audra Parker of the Alliance to Protect Nantucket
Hyannis, Massachusetts (PRWEB) January 27, 2010
A new poll released by the University of Massachusetts Dartmouth Center for Policy Analysis found that while Massachusetts electric ratepayers generally support wind energy, this support erodes rapidly if wind projects contribute to an increase in electric bills. The poll found a majority of respondents (55 percent) report they would not pay more for electricity produced by wind turbines.
The higher the increase to electric bills, the less likely respondents said they were to support the Cape Wind project. When asked if they would be more likely or less likely to support the Cape Wind project if National Grid's purchase of power from Cape Wind was to increase their electric bill from National Grid by ($50, $100, $150) per year, support for the project disappeared as costs to consumers grew.
According to UMass Dartmouth, "while 42 percent of respondents are less likely to support the Cape Wind project if their bill increased by $50 per year, this percentage increases to 67 percent at the $100 increase per year threshold and to 78 percent at the $150 increase per year threshold."
"The message from Massachusetts ratepayers is clear. They are unwilling to dig deeper into their own pockets in the form of dramatically higher electric bills to subsidize a private wind developer," said Audra Parker, CEO and president of the Alliance to Protect Nantucket Sound.
"Despite the fact that 75 percent of respondents support or strongly support wind power projects, they are particularly price sensitive to increases to their electric bills as a result of the increased cost to produce offshore wind energy," said Clyde Barrow, director of the UMass Dartmouth Center for Policy Analysis. "Support for the project declines significantly as the estimated effect on a respondent's electric bill increases."
The survey also found that support for lower electric bills trumps wind energy at the ballot box.
"In terms of wind power, electric rates and support for political candidates, respondents report they are much more likely to vote for a candidate who endorses policies that cut their electric bill (43 percent) in comparison to candidates who support wind power projects (26 percent)."
The UMass Dartmouth Center for Policy Analysis found that much of the support for wind energy was based on survey respondents' false assumption that offshore wind energy will lower their electric bill.
National Grid recently announced it would purchase the power from Cape Wind and, according to the Boston Herald, analysts predict negotiations will produce a rate more than double the current prices for natural gas in Massachusetts. A federal review of Cape Wind concluded that its cost to produce electricity would be two to three times the current rate. At this premium, Cape wind would increase customer electric bills by approximately $150 per year.
"It's still double the price – and the ratepayers will be picking up the tab for it for 20 years," Robert Rio, a senior vice president at Associated Industries of Massachusetts, told the Boston Herald.
A similar project in Rhode Island, Deepwater Wind, generated widespread opposition when its deal to sell power to National Grid came in at nearly three times the price of natural gas in Rhode Island.
The UMass Dartmouth Center for Policy Analysis surveyed 436 National Grid customers across Massachusetts over two days. The poll has an overall margin of error of +/- 4.7 percent and is available at http://www.umassd.edu/seppce/policyanalysis/docs/ng_poll.pdf.
# # #