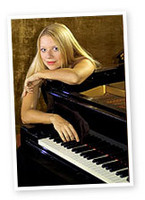 And she'll be performing in an auditorium that has exquisite acoustics – a venue that annually hosts the Oregon Symphony.
Newberg, Ore. (Vocus) January 28, 2010
Internationally acclaimed pianist Valentina Lisitsa will visit George Fox University for the fourth annual Bösendorfer Artist Concert Series at 7:30 p.m. Thursday, Feb. 25, in Bauman Auditorium on the university's Newberg, Ore., campus.
The performance, which will feature all 24 of Chopin's Etudes, marks a return to Oregon for Lisitsa, who performed to sold-out audiences in Portland and Salem, Ore., two years ago. Tickets are $10 for adults, $8 for alumni and seniors, and $6 for students and children under 12. To purchase tickets, visit music.georgefox.edu, or call the university box office at 503-554-3844. The box office is open from 10 a.m. to 5 p.m. Monday through Friday.
Lisitsa also will host a master class for George Fox music major students Wednesday, Feb. 24, from 4 to 6 p.m. in Bauman Auditorium. The class is free and open to the public.
Lisitsa has toured throughout Europe, Japan, South America and North America. She has collaborated with the Sao Paulo Symphony, the Prague Chamber Orchestra, and the Chicago Symphony, and has performed with the likes of Lynn Harrell, Jimmy Lin, Roberto Diaz, Ida Haendel, and Hilary Hahn.
Born in Ukraine, Lisitsa studied at the Lysenko School of Music and later at the Kiev Conservatory. Her performance repertoire includes more than 40 different concerti, featuring pieces from Bach and Mozart to Shostakovich and Bernstein. She recently embarked on a project to record all of Beethoven's 32 piano sonatas.
"Valentina will be performing on the university's Bösendorfer Imperial Grand Piano, often called the 'Rolls Royce of Pianos,'" said Kenn Willson, professor of music history and keyboard studies at the university. "And she'll be performing in an auditorium that has exquisite acoustics – a venue that annually hosts the Oregon Symphony."
The annual concert, sponsored by George Fox's performing arts department, has brought in world-renowned classical pianists since its inception in 2007. Past performers have included Italian pianist Gianluca Luisi and Baruch Meir.
George Fox University is ranked by Forbes as one of the top 100 colleges in the country and highest among Christian colleges. George Fox is the only Christian university in the Pacific Northwest classified by U.S. News & World Report as a national university. More than 3,300 students attend classes on the university's campus in Newberg, Ore., and at teaching centers in Portland, Salem, and Redmond, Ore., and Boise, Idaho. George Fox offers bachelor's degrees in more than 40 majors, degree-completion programs for working adults, five seminary degrees, and 12 master's and doctoral degrees.
Contact:
Kenn Willson
Professor of Music History and Keyboard Studies
503-554-2624
###