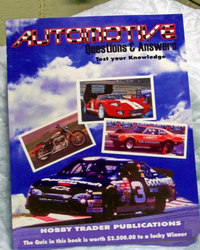 Detroit, Michigan (PRWEB) January 29, 2010
The Hobby Trader Corporation and William (Eliot) Aaron are proud to introduce to the public the 1st automotive trivia book written to test the knowledge of the public with a contest and the winning prize of $2,500.00. Automotive Questions and Answers is on sale at http://www.autotrivia.net
A trivia buff at heart, Eliot Aaron contracts The Hobby Trader Corporation with Martin Motorsports and Martin Technologies which is under the ownership of IHRA Pro Modified Racer and inventor Harold Martin. In this automotive environment there is a lot of discussion on technology standards, techniques and information. The idea of a trivia book and contest came from researching information on engine preparation and from the H.O. slot car drag racing club called The San Juan Dragway in which Eliot has been an active member since childhood. Members of this club on a weekly basis would come to the events with automotive trivia questions to see who had the answers. Automotive Questions & Answers contains 4 sections, American Auto History, Drag Racing History, NASCAR History and Harley Davidson History.
The reason for writing this book is to generate finances to develop the race car of Eliot's dream, which is to build Hobby Traders 1966 Chevrolet Corvair for the NHRA, IHRA, Super Chevy and other sportsman series of drag racing, with 10% of the proceeds being donated to The Youth Awareness Foundation which is a 501 (c) (3) charitable organization that works with inner city our youth in mentoring, team building and positive skills.
"We have researched and we use 4 categories of United States automobile and motorcycle production. Drag Racing History, NASCAR History, American Automobile History and Harley Davidson History were our focus for the 2 books that we are writing with our 1st addition to be released in February 2010. We are pleased to introduce to the public at a discounted price on our web site of $14.99, and we also look forward to writing Automotive Questions and Answers book 2 in 2012" Eliot said.
Automotive Questions & Answers is targeted towards Automobile & Harley Davidson enthusiast, historians, racers, fans, readers and collectors and can be purchased as a gift for men and women. Our book uses the ISBN# 1-4120-7089-9 and is bar-coded to be sold in stores.
Mr. Aaron formed the Hobby Trader Corporation in 2006 with the commitment to develop inventions (patents), write books and trade stock in a cost efficient and understandable way for the investors and the public. His 1st invention (The Residential & Commercial Drain Line Stop Valve) is designed to prevent the backflow of sewage water from entering into a structure by warning the property owner of a backflow developing. This valve is designed to be installed by a property owner without the help of a plumber or the high cost and long time of breaking up concrete or digging up the yard. This invention is patented with the United States Patent #6,311,721. Mr. Aaron and The Hobby Trader Corporation Associates are developing a Green Energy product that is not being used today that can produce electricity for municipalities, large residential areas and grouped commercial projects.
For more information please contact, The Hobby Trader Corporation @ http://www.autotrivia.net
& you can call Eliot Aaron (313)345-3083
###