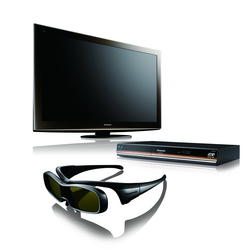 Winner of the prestigious "Best of Show" and "Best in Television" category at this year's "Best of CES" awards
(PRWEB) January 29, 2010
Panasonic, today announced that it has been selected by the editors at CNET (cnet.com) as both the winner of the prestigious "Best of Show" and "Best in Television" category at this year's "Best of CES" awards for its Full HD VIERA Plasma television. Winners were announced on Saturday, January 9, at 11:00 a.m. (PST) live on the CNET Stage in the South Hall lobby.
The "Best of CES" Awards, which are produced and judged by CNET, recognize the hottest products at the 2010 CES in nine categories, plus a Best in Show and People's Voice award selected by the CNET online audience. CNET editors received and reviewed hundreds of entries.
By delivering a full 1080p-resolution image to each eye, Panasonic's Full HD 3D TV technology offers consumers the highest possible visual experience. Panasonic will ship in the Spring of 2010 four HD 3D TV models in sizes including 50-inch class (49.9 inches measured diagonally) , 54-inch class (54 inches measured diagonally), 58-inch class (58 inches measured diagonally) and 65-inch class (65 inches measured diagonally). In addition, all four VIERA 3D TVs feature Panasonic's VIERA CAST™ IPTV functionality and all models are THX certified.
"Panasonic is extremely honoured and proud to have been recognized by CNET and the Consumer Electronics Association," said Bob Perry, Senior Vice President, Panasonic Consumer Electronics Company. "This honour truly underscores Panasonic's leadership in Full HD 3D technology. We are dedicated to bringing 3D technology into the home this year to enhance the entertainment experience."
The nine categories awarded include Digital photo and video, Car tech and GPS, Cell phones and smartphones, Computers and hardware, Gaming, Green, Home Theater, MP3 and portable video players, and Televisions.
Videos of the finalist products can be found at cnet.com/ces. For more information on Panasonic's Full HD 3D TV products and technologies, visit panasonic.com/3D.
###