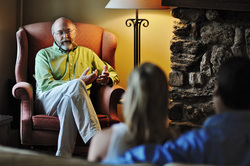 taking the steps necessary to prevent children from falling into alcohol and drug abuse
New York, NY (PRWEB) January 29, 2010
Over 200 parents met in Fairfield Connecticut on January 19, 2010 to show their support for drug addiction treatment and prevention and to hear Joseph A. Califano, Jr. speak on how parents can help their children to stay alcohol and drug free. Mr. Califano, currently the Chairman and CEO of The National Center on Addiction and Substance Abuse (CASA) at Columbia University, founded CASA in 1992 with the goal of studying and combating the abuse of all substances – alcohol, nicotine, illegal drugs and prescription and performance enhancing drugs – in all sectors of society.
The Town of Fairfield Task Force for Alcohol and Health, in conjunction with Mountainside Drug Rehab and Alcohol Treatment Center, Fairfield University, St. Vincent's Behavioral Health Services, and Bridgeport Hospital, and Serra Tuscon Treatment Center co-sponsored this community drug abuse education program. Mr. Califano recently authored a book How to Raise a Drug-Free Kid: The Straight Dope for Parents. Mr. Califano spoke at length about his new book and discussed strategies that studies have shown as necessary to be implemented by parents to prevent substance abuse by their children.
Mountainside's CEO, Terence R. Dougherty, stated: "We were so encouraged by the turnout for Mr. Califano's presentation. It's refreshing to see parents who are proactively taking the measures necessary to prevent their children from falling into alcohol and drug abuse. We believe that continued community-based education sessions such as these will increase awareness among parents that they (the parents) play the crucial role in preventing substance abuse by their children, with the time that they spend with them and educating them on the dangers of alcohol, cigarettes, illegal drugs and the improper use of prescription drugs and performance enhancing drugs."
Mr. Califano discussed the Nine Facets of Parental Engagement, calling them an action guide for good parenting. These are outlined in his book and support his contention that the national problem of substance abuse by children will not be solved in legislative hearing rooms but rather by caring parents in their homes being involved with their children on a daily basis.
Mountainside Addiction Treatment Center, one of the co-sponsors of the event, is nationally recognized for its innovative and highly effective evidence-based and innovative addiction treatment program. Each person in treatment is ensured that an individualized treatment plan will be developed according to his/her needs and will be guided and monitored by our licensed and certified counselors, social workers and clinical treatment team. With professionalism and compassion, each client is guided through every stage of his/her recovery from diagnosis, treatment and a strong aftercare program when they leave Mountainside.
Mountainside's medical services include our Advanced Nurse Practitioner and Registered Nurse with specialization in addiction treatment. Psychiatric services are available when needed.
If you or someone you love is in need of treatment, or if you have questions, please contact us:
800-762-5433.
Note - On January 27, 2010, it was announced by The National Council on Addiction and Substance Abuse (CASA) at Columbia University that William H. Foster, PhD will succeed Joseph A. Califano, Jr.., as its President and CEO. Mr. Califona will remain as Chairman.
# # #