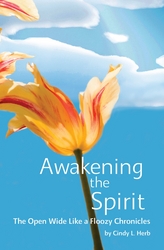 What evolved from writing a cathartic journal of traumatic life experiences was the book
Dallas, TX (Vocus) January 29, 2010
Streams of personal healing fill the pages of author Cindy L. Herb's recently released autobiographical and inspirational book, Awakening the Spirit: The Open Wide Like a Floozy Chronicles.
"What evolved from writing a cathartic journal of traumatic life experiences was the book," says the author from her home in DeSoto, Texas. "My wish is that it provides encouragement to those who, like me, bear the wounds of a painful past or an uncertain future."
Scarred by a childhood rife with the pain of rape and molestation along with the unrelenting grief of neglect, the author emerged into adulthood with a damaged and fragmented soul. She set out to uncover the bitter roots of her suffering. In the end, thanks to a shaman, she found a simple process that led her to a place of true healing.
In the book Herb, who has plans for a lecture series and additional books in the future, shows readers how to enter on to their own healing path.
Maria Shriver, First Lady of the State of California, has endorsed the book saying, "I know you will inspire others through your personal story of overcoming pain and suffering. I applaud you for having the courage and strength to share your extraordinary story."
About the Author
Cindy L. Herb specializes in mind, body, and spirit healing, as well as physical/sexual abuse recovery. She offers others an alternative approach to healing from any trauma, allowing people to view life's tribulations as an opportunity for spiritual growth. To find more information about the author, including her process for healing, visit her website at http://www.cherbchronicles.com.
About the Publisher
Awakening the Spirit: The Open Wide Like a Floozy Chronicles was published by The P3 Press, an independent publisher based in Dallas, TX. To learn more go to http://www.TheP3Press.com.
# # #