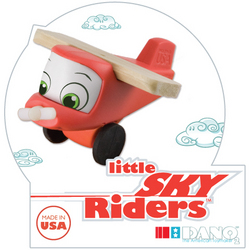 "I never forget that these toys are going in my daughter's mouth."
Carlsbad, Calif. (PRWEB) January 29, 2010
Two years ago pop-art sculptor and concerned new father Daniel Monahan founded DANO2 toys. He began making toys for his infant daughter after he couldn't find enough safe toys made in the United States. Since then both his daughter and his line have grown considerably.
After introducing a successful line of Made in the USA medical grade plastic teethers (The "Circus Teethers", and "Bug Bite") and rubber ducks (The DANO2 "Ducki"), DANO2 The American Toymaker now adds a new dimension to the classic wooden toy train set by launching a new line of fully-compatible airplane toys (Little Sky Riders).
When asked why he chose such a difficult course as a start-up company, Monahan replied, "I was frustrated that some mysterious global manufacturing chain made my daughter's toys. Now, I sculpt them in my studio with constant pediatrician feedback, and then I drive over to my factory multiple times a week to oversee production. I never forget that these toys are going in my daughter's mouth."
Not only is the new line of planes safe, as are all of DANO2's toys, but by visiting http://www.littleskyriders.com parents will be able to download and print a complete set of alphabet-shaped landing strips that have color-coded start and stop markers. Monahan states, "In this economy, I want to give parents the most value I can for the money, and what's more valuable than safely starting young children's love of reading?"
The current DANO2 product line is available online at dano2.com and in select specialty stores. The Little Sky Riders line will be shipping in July.
###