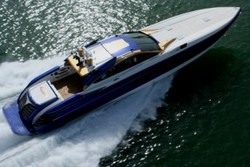 Chartering the exciting Super 80, especially at the limited time pricing, will provide an extraordinary experience for our clients: the chance to catch a wave – and live out a dream – in Miami Vice style. –Kate Kalamaga, founder, Tropicalboat Charters
Miami, FL (PRWEB) January 11, 2010
A new high performance sport yacht will satisfy the need for speed and luxury for clients of Miami-based charter company Tropicalboat Charters, Inc. The six-year-old charter company, which offers a full spectrum of yachts, speed boats, party boats, sport fishing yachts and sailing yachts for charter, has just announced the addition of the 80-foot Super 80 Nor-Tech luxury yacht to its fleet. The Super 80 is one of only two of the custom built luxury sport yachts built to date by Nor-Tech, the high performance boat builder, since the model's introduction in 2008.
Kate Kalamaga, owner and founder of Tropicalboat Charters, says the Nor-Tech Super 80 is the perfect boat for Miami. "We are thrilled to offer the high performance Super 80 to people looking for a fast and exciting charter trip," she says. "The yacht has an incredibly smooth ride, and reaches cruising speeds of 52 miles an hour with top speed of 60 miles an hour – even more than some speed boats. Yet it is beautifully designed and still provides amazing comfort with luxury amenities. "
Tropicalboat Charters offers the Nor-Tech Super 80 for day trips around Miami, Miami Beach and South Florida, as well as longer charters to the Keys and Bahamas. "Because it is new to our fleet, we are able to offer attractive introductory charter pricing for a very limited time," says Ms. Kalamaga. Day charters of four to eight hours which regularly run $6,000 are $4,000, and a one week charter which is regularly $30,000 is promotionally priced at $25,000. The introductory pricing expires June 1, 2010.
The Nor-Tech Super 80 luxury yacht holds six passengers for overnight or up to 12 for a day trip. Other specifications and features include three oversized staterooms: one master and two guest; crew quarters; state of the art entertainment systems with TV/DVD/DTV; satellite access; tender; waverunner; full bar, wine cooler, and icemaker; granite countertops with GE Profile appliances; teak floors and trim, and heads with marble floors, granite countertops, and glass bowl sinks.
Ms. Kalamaga added, "This new addition to our charter fleet broadens our capability to service our clientele. Chartering the exciting Super 80, especially at the limited time pricing, will provide an extraordinary experience for our clients: the chance to catch a wave – and live out a dream – in Miami Vice style."
About Tropicalboat Charters
Established in 2004, Tropicalboat Charters hosts charter yacht trips with experienced captains and crew in Miami, South Florida, the Bahamas and the Caribbean with a fleet of over 200 mega yachts, motor yachts, sport fishing yachts, party boats, sailing yachts and speed boats. Day charters, week charters and longer vacation charters are offered complete with catering, tenders, wave runners and a full host of amenities. For more information, contact Tropicalboat Charters at http://www.tropicalboat.com, or by calling 786.218.3030.
# # #