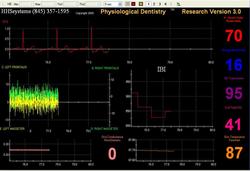 All lectures in this series are designed to provide guidance for both professionals and members of the public with special interest in the topics covered.
(PRWEB) February 9, 2010
In the second of a series of ten webinars, New York dentist Dr. Jeffrey Hindin addresses the innovative use of biofeedback by dentists. Jeffrey S. Hindin, D.D.S., F.I.C.O.I is a general dentist practicing all phases of dentistry with an emphasis on craniofacial pain, TMD, and sleep disorders. He has co-created a system of monitoring physiologic functions and incorporates biofeedback modalities into patient care. He is one of the founders of The Hindin Center for Whole Health Dentistry in Suffern, N.Y and lectures on dentistry and physiologic functions.
In his webinar on February 19, 2010, Dr. Hindin links subjective patient reporting with objective measures using the latest physiological assessment technology for dental assessment. The scientific basis for physiologic assessment is presented based on the latest research data. A few case studies are shown. Different monitoring systems for research, clinic, and home training are shown. Heart Rate Variability (HRV) is discussed and its importance as a measure of change in autonomic nervous system functioning. Powerful multimedia feedback such as DVDs, music CDs and MP3s, selected by patients, can be used to entertain, amuse or relax as the patient practices at home what they have learned in the clinic. Simple session and trend reports help show the patient, and the dentist, the progress they are making on a regular basis.
Using this system, objective changes can be observed and recorded, for example, before and after the insertion of the orthotic and with each subsequent modification or adjustment, or with other dental procedures. The benefits of physiologic dentistry establish a greater awareness of the influence of dentistry on the entire body.
Subsequent webinars will include exciting developments in biofeedback and neurofeedback from fields as diverse as Rehabilitation, Educational Psychology and Physical Medicine. Topics covered will include Pro Golf, Heart Rate Variability and Attention Deficit Disorder. The combined experience of these presenters who have lectured all over the globe will cover breakthroughs as varied as Elite Sports Performance and Gold Medal winners to Virtual Reality for helping returning troops address issues of PTSD.
All lectures in this series are designed to provide guidance for both professionals and members of the public with special interest in the topics covered. Subscribers to this lecture series not only benefit by learning of the latest breakthroughs but also know that their contribution to the foundation's International Research and Education Projects (IREP) help to advance studies and bring alternative and complementary medicine closer to home.
The Biofeedback Foundation of Europe's mission is to provide health professionals worldwide with a greater understanding of how biofeedback training can enhance their ability to care for patients. Using an innovative approach to sharing knowledge, they offer a wide variety of online courses, limiting the number of participants to allow for real-time interaction with the instructor.
The BFE was originally founded to promote a greater awareness of biofeedback among European health professionals and to educate clinicians in the use of the latest biofeedback techniques and technology through training workshops. The Foundation's advisory board is comprised of leading clinicians and researchers from multiple disciplines who share a common interest in the dissemination of information about this rapidly growing field. Their 14th Annual Meeting will take place this year from April 13-17, in Rome, Italy. The Biofeedback Foundation of Europe is a non-profit organization headquartered in the Netherlands.
###