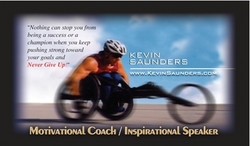 As Governor Schwarzenegger said; Kevin's broken body serves as a silent testament to one who has overcome tremendous obstacles and beckons others to follow
Houston, TX (PRWEB) February 2, 2010
He recently won the Houston Chevron/Aramco half marathon, now Kevin Saunders wants to share his amazing personal story with the nation. Soon President Obama will name a chair to lead the President's Council on Physical Fitness. Saunders has been nominated, but he needs grassroots help -- write a letter to support Kevin Saunders as chair of the President's Council on Physical Fitness. Start today by becoming a Facebook fan of Kevin Saunders for Chairman of the President's Council on Physical Fitness / Sport. His supporters have set a goal of 5,000 Facebook fans.
See Kevin's ABC TV interview after the race where he talks about what he would do as Chairman by clicking this link: http://abclocal.go.com/ktrk/video?id=7223453
Kevin Saunders' audacious plan as chairman is to push his wheelchair through all 50 states over the next 2.5 years. He'll speak in schools and visit the Mayors and city councils and Governors to see what the PCPFS can do, as well to encourage the entire community get fit.
"Kids need to see what choices take them closer to their goals or further away, and start refining and improving their choices. This tour also allows them to realize that most goals are not reached in days or even weeks but months and sometime years," said Saunders. "I have a deep passion and drive to see that all of America gets fit! At each stop I want to have an activity such as a run, aerobics, and other physical activities accessible to most people. The tour is inspired by my friend and mentor, Arnold Schwarzenegger. When he chaired the committee, he visited all 50 state capitols. As Governor Schwarzenegger said; 'Kevin's broken body serves as a silent testament to one who has overcome tremendous obstacles and beckons others to follow'."
Saunders was appointed to the President's Council on Physical Fitness by President George H.W. Bush and was the only council member to be reappointed to the council by President Bill Clinton. He is a sought-after speaker, motivational coach, and author of five books. He has a proven, singular to communicate, not only about fitness as an essential, everyday tool, but way to truly overcome life's most challenging circumstances. There could be no better role model to lead the President's committee.
Organized athletic competition is only one element of his record of achievement. Saunders' attempt to raise awareness of fitness and disability issues led him to wheel over 2,500 miles from Canada to México and serve as "Ambassador of Fitness" wheeling across several European countries, meeting with officials to advance disability causes.
Help Kevin Saunders wheel his way to Washington to serve the country as Chair of the President's Council on Physical Fitness and Sport. Visit http://www.KevinSaunders.com, go to the left and under the big blue NEVER GIVE UP! and click on 'Who is Kevin Saunders and why should he be the next Chairman of the President's Council on Physical Fitness & Sports?' Then send a letter to President Obama today.
The Hon Barack Obama, White House Personnel, RE: Appointment Chairman Fitness Council
The White House
1600 Pennsylvania Ave
Washington, DC 20500
cc letter to:
Kathleen Sebelius
Sec. Health and Human Services
200 Independence Ave SW
Washington, DC 20201
For any questions please feel free to contact:
Dora Ortiz at Saunders & Associates @ info(at)kevinsaunders(dot)com
Website: http://www.KevinSaunders.com (on home page on left side below Olympic torch, below the blue NEVER GIVE UP! Click on pdf link entitled: "Who is Kevin Saunders and why should he be the next chairman of the President's Council on Physical Fitness & Sports?)
PH: 713-686-0077
###