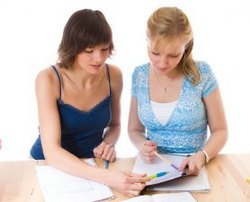 If you fight every night over homework... if you know your child would do better if they were just more organized... if your student is bright but doesn't do well on tests...then you need HomeworkCoach!
Roswell, GA (PRWEB) February 2, 2010
Deo Gloria LLC today announced the nationwide launch of HomeworkCoach, an innovative approach to in-home tutoring that is focused on aiding the student's overall success in school. Rather than tutor specific subjects, the homework coach helps the child organize and complete schoolwork on time, instilling the study skills that will ultimately allow the student to succeed on their own.
"HomeworkCoach is for any parent who butts heads with their teenager or pre-teen over homework completion," said Dennis Freeman, director of Deo Gloria LLC. "Our homework coach will go to the client's home two or more times a week to help the student complete homework and prepare for tests. Our coaches are typically young and fun, so that the student will soon be looking forward to their arrival."
HomeworkCoach differs from other national tutoring organizations in that its service is not merely an online directory of tutors. Instead HomeworkCoach specialists will carefully match each client with the right coach. The company uses a comprehensive methodology developed by an experienced educator that equips the homework coaches to be effective with each student. Coaches receive ongoing training and supervision.
"My coach was encouraging and insightful," says a single mother in Roswell GA who has used the HomeworkCoach service. "He quickly came up with a plan to get my son focused and on track. He involved me in encouraging my son and holding him accountable. The coach was always prompt and professional -- which was not lost on my son -- who began began setting his own alarm clock and managing his time, and organizing himself. I could not have asked for better results."
Pricing for the service ranges from $35 to $50 per hour depending on the experience of the tutor and the number of times the coach works with the student each week. The company recommends twice a week for most clients. Included in the price is a password-protected blog allowing the coach and student to communicate and keep a record of upcoming assignments and resources.
The HomeworkCoach service has been developed by Deo Gloria's tutoring business, In-Home Tutors, which has served more than 2,500 students since its launch in Atlanta in 2002. "We know from our experience with hundreds of students and listening to their parents that we have a proven solution for improving the child's grades and self-confidence and reducing fights over homework and stress within the household," said Freeman.
For more information about HomeworkCoach, call toll-free 1-877-715-5442 or visit http://www.homeworkcoach.com.
About Deo Gloria LLC
Deo Gloria LLC is a privately-owned limited liability company based in Roswell, Georgia. The company was founded in 2002 with the mission of providing affordable tutoring services in parents' homes. Deo Gloria can be reached at 770-645-8750.
# # #