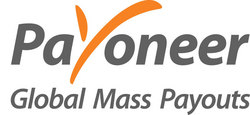 "We are honored that the Awards Committee appreciates the complexity of providing a multilingual international payments service – and for recognizing the role of prepaid payroll cards in allowing online businesses to pay international employees."
New York (PRWEB) February 1, 2010
Paybefore has chosen Payoneer, a leading provider of online payments solutions, as a Paybefore Awards winner in the BEST BUSINESS/CORPORATE-FUNDED PROGRAM: B2E (Business to Employee) for its Payoneer Prepaid MasterCard® program. The Paybefore Awards, now in its fourth year, are the most prestigious recognition of excellence in the worldwide prepaid and stored value card industry. They are presented annually by Prepaid Media, whose Paybefore publications are the leading source of industry information for the global prepaid community.
"We are honored that the Awards Committee appreciates the complexity of providing a multilingual international payments service - and for recognizing the increasing role of prepaid payroll cards in allowing online businesses to pay international employees," said Yuval Tal, CEO of Payoneer. "We're also grateful for the exceptional support of MetaBank, which has allowed us to innovate and succeed."
Many companies now need their people to 'work globally and get paid locally,' yet the market has lacked an effective alternative to checks and wire transfers, which can be slow and inefficient. Payoneer's prepaid card solution is an elegant way for companies to pay their constituents much more quickly while lowering administrative costs and turning payments into a branding opportunity.
Payoneer was selected by a panel of five industry experts who served as judges for this year's competition. A record number of entries from around the world were received.
"Paybefore applauds the leaders in our industry who are applying the flexibility and appeal of prepaid to innovate on behalf of consumers, governments and businesses," said Marilyn Bochicchio, Paybefore CEO and chair of the judging panel.
"Payoneer has distinguished itself in a tough field of competition," she continued. "We are proud to recognize its contributions to advancing the use of prepaid products."
Payoneer provides a fully hosted online payment solution that gives organizations a more efficient method to pay individuals virtually anywhere in the world. Its payment system allows companies to remit payment on a moment's notice by loading funds onto prepaid MasterCard® cards. This reduces the time for cardholders to receive their payments from weeks to hours, while avoiding wire transfer or check cashing fees. The prepaid card provides for safer payments that are not lost in the mail, and allows more efficient payment processing. Cards can also be private labeled, turning payment into a branding activity that helps partners to build loyalty and affiliation when their valued constituents carry a MasterCard card with the payer's corporate logo.
Payoneer now will vie for best-in-category distinction, which will be announced during the Paybefore Awards ceremony on Feb. 22 at the Prepaid Expo USA.
About MetaBank™
MetaBank is a federally-chartered savings bank regulated by the Office of Thrift Supervision. Meta Financial Group, Inc.® is the holding company for MetaBank, Meta Payment Systems®, and Meta Trust Company®. For more information visit http://www.bankmeta.com.
The Payoneer Prepaid MasterCard is issued by MetaBank pursuant to license by MasterCard International Incorporated. MasterCard is a registered trademark of MasterCard International Incorporated.
About Payoneer
Founded in 2005, Payoneer Inc. provides fully-hosted prepaid MasterCard® solutions for organizations that need to remit payments to remote, dispersed populations worldwide. Payoneer's turnkey prepaid card platform enables companies of all sizes to optimize their payments delivery by replacing traditional payment methods with prepaid MasterCard cards and recurring electronic transactions. Payoneer is a registered MSP with MasterCard Worldwide and an approved partner of Meta Payment Systems®, a division of MetaBank. Payoneer is headquartered in New York and maintains its R&D center in Tel Aviv, Israel. Payoneer is privately held with venture funding from Carmel Ventures, Greylock Partners and Crossbar Capital. For more information, please visit http://www.payoneer.com.
About Paybefore
Paybefore is the leading information provider to prepaid and stored value industry professionals, offering the latest news, commentary and analysis. Paybefore's family of industry publications include: Paybefore.com™, a searchable online information portal; Paybefore News™, daily news briefs delivered electronically; Paybefore News International™, a weekly compilation of prepaid news and events from outside the United States; Paybefore Update™, a downloadable enewsletter delivered 20 times a year; Paybefore Legal™, a downloadable enewsletter covering the legislative, regulatory and judicial developments in prepaid, as well as feature articles by leading attorneys in the field; Paybefore Magazine™, a biannual print publication highlighting the best of Paybefore; and Paybefore Buyer's Guide™, available online and in print.
###